Denon AVR-3310CI Receiver Review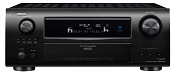 Denon has been making quality receivers for a long time, and looks like they're continuing that tradition. Here's a two-part review of one of their new 3310 series of AVR's. No 3D but still plenty of other great features.
I've lived with the Denon AVR-3310CI for about two and a half weeks now and overall I'm extremely pleased with the purchase, especially pleased when I think about what I saved going with last years model. It was a long overdue addition to my system but a welcome one just the same. Which leads me to the only caveats I can offer before a full-on, 100% recommendation. If the lack of full 3D pass-through, ethernet over HDMI, audio return channel and or 4k support bothers you, then by all means look at the AVR-3311CI or another HDMI 1.4 capable device. If not, this very well may be the best bargain in AVR's you'll see in a very long time.