Life With a Plugin Episode 23: mcShoutCast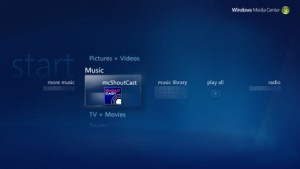 Music is a natural player in a home theater PC environment, yet the idea of streaming has stayed in the shadows for quite some time. It could be that home theater users crave higher fidelity from their music, or that they already have the music they enjoy in their digital collections. That being said, I have often enjoyed the ability of streaming the latest hits from Pandora, Last.FM or a variety of sites when I have guests over with different listening tastes than mine.
mcShoutCast aims to continue what it's been developing for a while now, by bringing the vast collection of radio stations from the Shoutcast.com directory to the convenience of your remote and Media Center experience. While other players have been content with merely being players, mcShoutCast attempts to go above that and offer some unique things to make it appealing on the big screen.
| | |
| --- | --- |
| | |
| mcShoutCast tile on the Music Strip | Graphical list of stations available |
Above & Beyond
It's always refreshing reviewing an application which throws you for a loop as to what to expect with it–in this case, I expected some basic playback and playlist functionality, and found a lot more than meets the eye. Sure, we have the normal application of a streaming radio application, being able to browse and play from a number of sources. Filtering by set categories, letters, genres, etc.
| | |
| --- | --- |
| | |
| List of Genres | Genre options |
What impressed me most was with everything else. Click on a radio station, and you have the option of viewing station details, showing similar artists/albums, viewing your photos, viewing slideshow of artists playing, biography, lyrics and the list goes on! If that sounds a lot, it's because it is! Some of them are more useful than others.
You can browse various albums of the artist, and view the track titles (the service uses Amazon for this), but there's no preview of songs or any option to download/purchase, so that's a curious inclusion. Maybe I'm just not the target. Other features though are surprisingly entertaining. I found myself testing the lyrics portion just to see how it worked, and found myself singing along with the songs!
| | |
| --- | --- |
| | |
| Record a station | View Station Details |
If you have company over and are ashamed of your own pictures, throwing up the artists slideshow is entertaining as well. The program will play the radio station and then show images it finds in relation to the artist being played. Even cooler when you are listening to an older band and get to see their hairstyles change for every decade.
| | |
| --- | --- |
| | |
| View lyrics to the currently playing song (with autoscroll!) | View artist biography automatically |
The last thing I'll mention is a hidden feature snuck into the configuration section–recording! Yes, you read correctly. You can schedule the application to record a specific stream at a set time. Folks new to MCE might think "of course" with this, but back when Media Center launched with FM Radio support, one of the most requested features that never came was the ability to record a station. Good to see it finally came to fruition, albeit unofficially.
Falling Short
Where mcShoutcast hurts itself is exactly in their vast collection of stations available. It makes browsing through 1,000 stations quite difficult, and I did have some difficulty with search hanging up on me. The nature of the beast with streaming radio stations, is they can be taken offline at any moment–while mcShoutCast does continuously try to update itself, I still found a few stations that were unable to stream at all.
| | |
| --- | --- |
| | |
| LauraFM – User Contributed stations, but not always reliable | Look at tracks from albums…just the names, no playback. |
The other issue I have comes with any application which does so much, and that is the time it takes to get accustomed to it. Initially the time involved is high, as there are so many stations and so many different options to play with. Once I had my set group of favorites and knew the features I would use, the app became much more efficient.
Grade: Approved for Everyday Use

No surprise here on the grade mcShoutCast received. Besides being free of charge, it brings a large collection of streaming music to your fingertips and also throws in some very clever features you never thought would be needed–or that would be possible.
This app throws in extras everywhere it could, with lyrics, slideshows and biographies bringing the Shoutcast music library on par with what Boxee users have been enjoying for a while now. My only wish is that mcShoutCast could tie into my own digital movie collection to leverage the online resources it has to link up artist-album information with a particular song.
| | |
| --- | --- |
| | |
| Photo list of artist | Slideshow during playback |
If I had one request it would be to bring on a bit more of social interaction–something to help rank stations, or help you find more popular stations easier. If my friend listens to 5 stations, and I happen to listen to 1 of them, then it could recommend me the other 4. Something like that would really help educate users on some other stations that they may not have come across otherwise.
That being said, I can't say enough great things about this app, so if you like music at all go download it and give it a go!
Product Vitals
Website: http://en.mcetools.de/mcShoutCast/tabid/83/Default.aspx
Creator: MCETools
Price: Free