The Simple.TV Aims to be the DVR for Every Device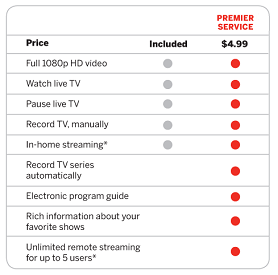 We've seen a number of different whole home DVR systems at CES so far, but most of them are similar to the DISH Hopper with a central multi-tuner DVR that feeds live and recorded TV to smaller extender units. The Simple.TV is intended to provide a whole world DVR system, turning any device into an extender unit. The Simple.TV asks only for an antenna or basic cable connection to feed its integrated tuner and a network connection to stream TV over. The Simple.TV adds DVR capabilities by recording to network storage or to external storage via USB. Obviously network tuners are nothing new, but Simple.TV promises simple integration and operation with any device running the Simple.TV app. I know a lot of folks around here would probably be more interested in a CableCard version, but it might be a good start for the cord-cutters among us.
Simple.TV works like this: You connect the streaming set-top box to an HD antenna or cable connection, as well as to your broadband connection, and the device allows you to beam live and recorded TV to any number of mobile, tablet or connected device apps that support the box. At launch, Simple.TV will support streaming to the iPad, Roku streaming boxes, Google TV-enabled devices and the Boxee Box.