SiliconDust HDHR4-2DT Dual DVB-T/T2 HD Network Tuner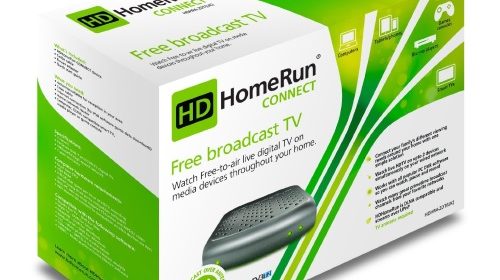 We've been waiting for the SiliconDust HDHR4-2DT network attached DVB-T2 tuner for a couple years now. In the meantime, anyone leveraging the UK's digital terrestrial television networks have had to make an unwelcome choice between pretending HD content doesn't exist, or living without the inherent flexibility of an Ethernet enabled TV tuner. With the £100 device finally hitting shelves, it is time to see if the HDHR4-2DT can deliver the same stability and capability SiliconDust's US customers have enjoyed for several years.
Device
SiliconDust has always been focused on delivering great kit for geeks, but when I met with them last it was mentioned that they don't see the HDHomeRun products as just for the technically savvy. So with this in mind they were making a conscious effort to spruce up the packaging – making it more end-cap friendly, able to hook potential buyers as they pass by with a value proposition on the box. I think it works. The change is subtle, but the message is clear. Of course it's what's inside the box that counts, and here we find the Ethernet enabled SiliconDust HDHR4-2DT alongside a Cat5E cable, UK power adapter, and quick start instructions. Some may lament the lack of a driver disk, but I firmly believe that they did the right thing by not including something that would be outdated before the boxes left the factory. Including an antenna cable would have helped with approachability, given the not-necessarily-technical-user push, but perhaps this something that everyone already has on hand.
The HDHR4-2DT is exactly what we've come to expect from SiliconDust's recent line of network tuners. Simple physical design that has the necessary inputs, and not-too-bright status lights in a chassis that blends easily into almost any décor using 1.9-3.5W depending on the number of tuners used. It would have been nice to have a hardware switch on the back to toggle the lights, but some electrical tape will also serve in light sensitive installations. Although because you can place the HDHR4-2DT anywhere with network and over the air (OTA) antenna pulls there is significant flexibility around where it can be installed as well.
Setup
Following the instructions on the quick start guide was simple and straight forward. Select the appropriate drivers, run them and go. The configuration application hasn't changed much over the years, it still prioritizes function over form, but there are a few more options in the BDA Compatibly Mode drop down than I remember. A few clicks, wait for a channel scan, and you're ready to enjoy digital terrestrial content anywhere in the house.
Use
SiliconDust provides a PC application for viewing live TV, as well as paid options for mobile devices. Both work well for their intended uses, but the real value is with time-shifting linear TV where it is necessary to turn to 3rd party applications to achieve the goal.
There are myriad PC based PVR applications available, so it isn't practical to run through each one. I've tried to hit the major players testing for compatibility, functionality, and stability. Unfortunately, only two solutions passed on all three metrics – the soon to be euthanized Microsoft Windows Media Center and MythTV (used with Kodi and Plex). With both, the entire lineup of DVB-T/T2 channels including HD, were available and the HDHR4-2DT performed perfectly over many days of constant recording. The only issue noted was with MythTV's handling of tuner locking, or more specifically, the lack of tuner locking which can lead to broken recordings if the HDHR4-2DT is shared with other applications. Besides the obvious longevity point, MythTV also has a practical advantage over Microsoft Windows Media Center because it supports recording multiplexed streams from a QAM channel. So depending how a show is broadcast, it is possible to record more than two at the same time.
Where Microsoft Windows Media Center and MythTV performed admirably, three other applications that were tested did not fare as well. Both Media Portal and JRiver Media Center were able to use the HDHR4-2DT, but channel scans were unable to locate HD channels in the lineup. Negating the value of the HDHR4-2DT over its aged DVB-T predecessor. Argus TV, on the other hand, completely failed to find any channels, even the SD ones. I suspect that for first two it is simply the newness of the HDHR4-2DT, as it is clearly not an issue with the device itself. Hopefully these 3rd party projects will resolve in a timely way.
Conclusion
Simply put, the SiliconDust HDHR4-2DT is the HTPC [dual] tuner I've been missing since crossing the pond. Its stability, ease-of-use, and flexibility enable, via 3rd party products, recording broadcast HD TV and consumption on any device on my network. Where other TV tuners require Goldberg-esque process flows to provide the same functionality, the 100BASE TX Ethernet enabled HDHR4-2DT enables a more supportable, scalable topology. Besides being a bit difficult to get your hands on, the £100 DVB-T2 tuner's only major drawback is a critical reliance on 3rd party HTPC PVR products for proper support – which is currently lacking from some apps. If I were allowed to discuss SiliconDust's upcoming "HDHomeRunPVR" software recording solution (which unlike the HDHR4-2DT has met every milestone so far ;)), it would be easy to point out that they are obviously aware of this limitation, and working to resolve it over the next 6-12 months, but I can't… so we'll just have to leave it with, it was worth the wait.
Pro:
Stable
Flexible
Simple installation process
Awesome (sorry, can't help myself)
Con:
SiliconDust can't make them fast enough
Current ecosystem is dependent on 3rd party products
Thanks to SiliconDust for providing the review unit