NETGEAR Launched R6400 AC1750 Smart Wi-Fi Router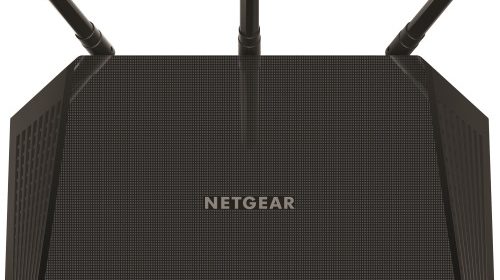 Staying on Wi-Fi's cutting edge has been expensive over the last couple years, with the major improvements in software and features only coming to the top end of the market. Today NETGEAR took steps to reach more budget-minded users with the launch of the $150 R6400 AC1750 802.11AC Wi-Fi router. The R6400 is intended to slot into the R6300's current position, adding external antennas, and updated SoC to features like Beamforming+, NETGEAR Genie, ReadySHARE Vault and AirTime Fairness previously found on their top-end devices.
Full PR after the click.
NETGEAR RATCHETS UP PERFORMANCE OF NEW AC1750 SMART WIFI ROUTER

The next generation in AC1750 Smart WiFi Routers offers great value as it is packed with features and the latest technologies to boost performance and range for faster streaming and gaming at home

SAN JOSE, Calif. — July 13, 2015 — NETGEAR®, Inc. (NASDAQ: NTGR) (www.netgear.com), a global networking company that delivers innovative products to consumers, businesses and service providers, today expanded its portfolio of Smart Routers with the NETGEAR AC1750 Smart WiFi Router (R6400) (www.netgear.com/r6400). A new design that includes high power amplifiers, external antennas and Airtime Fairness®, combined with implicit and explicit Beamforming, boosts this router's WiFi performance at long range by up to 80 percent over the previous-generation NETGEAR AC1750 Smart WiFi Router, the R6300. Packed with user-friendly features such as new remote network management via the NETGEAR genie® app and a SuperSpeed USB 3.0 port, it's a high performance, high value solution for large homes with an increasing number of wireless devices.

With AC1750 WiFi, Gigabit Ethernet speeds, and three high-powered external antennas, the NETGEAR AC1750 Smart WiFi Router offers ultimate performance and wireless coverage. It offers up to three times faster access than routers with 802.11n technology and more reliable streaming for home computers and WiFi mobile devices. This router delivers the fast speed and reliability needed for applications such as smooth, lag-free multiple HD video streaming, multi-player gaming, and a secure and reliable connection to the Internet.

Compatible with next-generation WiFi devices and backward compatible with 802.11 a/b/g/n devices, the AC1750 Smart WiFi Router enables HD streaming throughout your home. High-powered amplifiers, three external antennas and Beamforming+ improve range and reliability to extend coverage and reduce dead spots for large homes. With up to 1750Mbps* speeds (450+1300 Mbps) and simultaneous dual band WiFi technology (2.4GHz for range and 5GHz for performance), this router avoids wireless interference, ensuring top WiFi speeds and reliable connections for all your mobile devices. Airtime Fairness prevents network lag when slower devices connect. Advanced Quality of Service (QoS) automatically recognizes and prioritizes applications for smoother HD video streaming and low-latency multi-player online gaming.

"Customers who are looking for the best price/performance router with the latest 802.11ac WiFi technology need look no further than our new AC1750 Smart WiFi Router," said Sandeep Harpalani, NETGEAR's senior director of product marketing for Retail Network Products. "With new technical capabilities and a rich feature set, it's not only supremely easy to install on your network, but offers an amazing uptick in terms of performance and range."

NETGEAR has you covered in terms of network security, as the AC1750 Smart WiFi Router offers the highest levels of wireless security, including VPN support for secure access to your home network. You can even customize a free URL to create your personal FTP server. To ensure your family's online safety and privacy, you can also set up guest network access and parental controls that you can tailor to each device.

NETGEAR AC1750 Smart WiFi Router supports the unique capabilities of the NETGEAR genie® app. The user-friendly NETGEAR genie, already enjoyed by more than 5 million NETGEAR customers worldwide, is your personal dashboard that makes it easy to install, monitor, control and repair your home network. The new remote capabilities of NETGEAR genie means you'll experience superior visibility and control of your router whether you're at home or away, so you can also enjoy peace of mind. You can easily access your home network, view the real-time network map of all the connected devices on your network, check bandwidth usage, block WiFi devices, set up guest WiFi, and manage parental controls for safer web surfing on a per-device basis, anytime, anywhere, all through the app. The NETGEAR MyMedia™ feature enables you to find and play your stored media files from anywhere on your network to your Chromecast® connected TVs, DLNA®-ready TVs and music system. You can also make any printer AirPrint® compatible for printing from an iPad® or iPhone®.

In addition to its four Gigabit Ethernet LAN ports, NETGEAR AC1750 Smart WiFi Router offers two USB ports, one of which is a SuperSpeed USB 3.0 port that provides a connection up to ten times faster than USB 2.0. These two built-in USB ports are NETGEAR ReadySHARE®-enabled for wirelessly accessing and sharing content on USB hard drives from any device in your home network. ReadySHARE printing capability means you can wirelessly access and share a USB printer, creating the total package for consumer or home office needs.

You can keep your content safe with NETGEAR ReadySHARE Vault™, free application software that takes automatic backups of incremental changes on all PCs in your home network and saves them to a USB hard drive connected to the router. The AC1750 Smart WiFi Router is also compatible with Apple Time Machine® for automatic Mac® backup to a USB hard drive connected to the router.

Pricing and Availability

The NETGEAR AC1750 Smart WiFi Router is available now worldwide from major retailers in stores and online, at an MSRP of $149.99 in the U.S.

More Information

About NETGEAR, Inc.

NETGEAR (NASDAQ: NTGR) is a global networking company that delivers innovative products to consumers, businesses and service providers. The Company's products are built on a variety of proven technologies such as wireless, Ethernet and powerline, with a focus on reliability and ease-of-use. The product line consists of wired and wireless devices that enable networking, broadband access and network connectivity. These products are available in multiple configurations to address the needs of the end-users in each geographic region in which the Company's products are sold. NETGEAR products are sold in approximately 44,000 retail locations around the globe, and through approximately 33,000 value-added resellers. The company's headquarters are in San Jose, Calif., with additional offices in approximately 25 countries. More information is available at http://investor.netgear.com or by calling (408) 907-8000. Connect with NETGEAR at www.twitter.com/NETGEAR and www.facebook.com/NETGEAR.

©2015 NETGEAR, Inc. NETGEAR, the NETGEAR logo, NETGEAR genie, MyMedia, ReadySHARE and ReadySHARE Vault are trademarks and/or registered trademarks of NETGEAR, Inc. and/or its affiliates in the United States and/or other countries. Other brand and product names are for identification purposes only and may be trademarks or registered trademarks of their respective holder(s). The information contained herein is subject to change without notice. NETGEAR shall not be liable for technical or editorial errors or omissions contained herein. All rights reserved.

* Maximum wireless signal rate derived from IEEE standard 802.11 specifications. AC1750 equals 450Mbps at 2.4GHz 802.11n with 256 QAM support + 1300Mbps at 5GHz 802.11ac. Up to 1300Mbps wireless speeds achievable when connecting to other 802.11ac 1300Mbps devices. Actual data throughput and wireless coverage will vary. Network conditions and environmental factors, including volume of network traffic, building materials and construction, and network overhead, lower actual data throughput rate and wireless coverage. NETGEAR makes no express or implied representations or warranties about this product's compatibility with any future standards.

Safe Harbor Statement under the Private Securities Litigation Reform Act of 1995 for NETGEAR, Inc.: This press release contains forward-looking statements within the meaning of the U.S. Private Securities Litigation Reform Act of 1995. Specifically, statements concerning NETGEAR's business and the expected performance characteristics, specifications, reliability, market acceptance, market growth, specific uses, user feedback and market position of NETGEAR's products and technology are forward-looking statements within the meaning of the Safe Harbor. These statements are based on management's current expectations and are subject to certain risks and uncertainties, including, without limitation, the following: the actual price, performance and ease of use of NETGEAR's products may not meet the price, performance and ease of use requirements of customers; product performance may be adversely affected by real world operating conditions; failure of products may under certain circumstances cause permanent loss of end user data; new viruses or Internet threats may develop that challenge the effectiveness of security features in NETGEAR's products; the ability of NETGEAR to market and sell its products and technology; the impact and pricing of competing products; and the introduction of alternative technological solutions. Further information on potential risk factors that could affect NETGEAR and its business are detailed in the Company's periodic filings with the Securities and Exchange Commission. NETGEAR undertakes no obligation to release publicly any revisions to any forward-looking statements contained herein to reflect events or circumstances after the date hereof or to reflect the occurrence of unanticipated events.