My Movies for Media Center and WHS 2011 Updated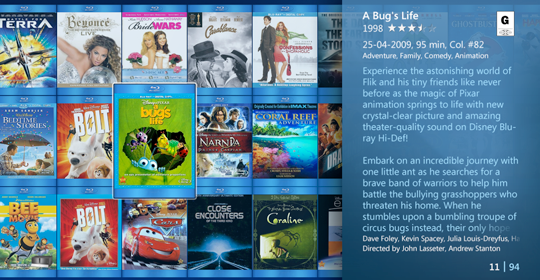 One of the longest running Add-ins for Media Center and Home Server, My Movies, has been updated. My Movies for Media Center is now up to version 4.02 PR6 and version 2.10 PR5 for WHS 2011.
I personally have been running My Movies for years, it is my go to Add-in for Media Center. I love the look and feel of My Movies, the simplicity of it, and the fact it doesn't distract from the fact you are using Media Center. If you aren't using it I highly recommended giving it a try.
My Movies has been updated to version 4.02 PR6. The new version includes fixes and other minor changes: My Movies for Windows Media Center and My Movies Collection Management 4.02 Pre Release 6 Added: Option to debug playback by adding DWORD "PlayBackDebug" in HKLM\Software\My Movies and setting it to 1.
To go with the update for My Movies for Windows Media Center there is an update for the Windows Home Server 2011 edition, again the changes are minor but worth upgrading if you have PR4 install. My Movies for Windows Home Server 2011 2.10 Pre Release 5