Media Streamer Year in Review: Netgear NTV550, A.C. Ryan PlayOn!HD2, and Boxee Box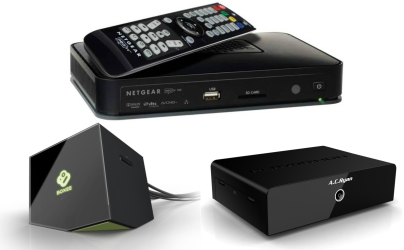 There are more companies releasing media streamers each year and each year it gets harder to choose the perfect streamer. If you are taking advantage of this year's season of shopping to pick up a new media streamer, there are no end of reviews out there to help you in making your selection, not to mention our comparison guide to help you compare specs, but sometimes it helps to get feedback from a reviewer who can compare and contrast some of the more popular choices based on hands-on experience. The A.C. Ryan PlayOn!HD2 and the Netgear NTV550 are both fairly classic media streamer devices whereas the Boxee Box's PC roots show through in its constant stream of software updates. Each streamer has it it pros and cons and it's unfortunate that there doesn't seem to be a clear cut winner to make choosing a streamer easier. It really depends on what you need. Any opinions on which streamer should earn the nod?
Today, we will summarize the media streaming capabilities of some of the media streamers which vied for consumer attention over the last 1 year. Representing Sigma's platform is the Netgear NeoTV 550 (based on the SMP 8642). From the Realtek side, we have the A.C.Ryan PlayOn!HD2 based on the RTD 1185. In our original Boxee Box review, we had indicated that a second look would be coming soon. We will see whether firmware updates have improved the capabilities of the Boxee Box since we last looked at it.