Turkey Day Gem: Low Price HTPC from Lenovo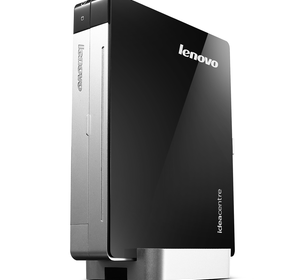 With the advent of Thanksgiving more and more deals are popping up and while I was browsing my feeds and looking at all the sales this gem popped up. The Lenovo IdeaCentre Q180. Fully equipped with BD drive, HDMI with 7.1 Audio, AMD 6450 Video, USB 3.0, 8-in-1 card reader all wrapped up in a small form factor.
The Lenovo IdeaCentre Q180 normally runs $399, but right now it is on sale $369 out the door with free shipping. Not bad for a full blown HTPC that include a blu-ray drive and can play back 1080p video and claiming to be the worlds smallest desktop pc.
Lenovo has released what it claims to be the world's smallest desktop PC. We're not sure we can really confirm such bravado, but the IdeaCentre Q180 certainly is pretty tiny — especially if you split it in half to remove the optical drive. It can be placed vertically or horizontally, with a sleek chassis of only 155 x 192 x 22mm — not much larger than a DVD case.

Inside, there's a 2.13GHz Atom processor with up to 4GB of RAM and your choice of a 500GB HDD or 128GB SSD. If you need something more, Lenovo provides options for a Radeon HD 6450A 512MB discrete graphics card, Blu-ray drive, and 750GB hard disk space — not a bad way to make optimal use of its HDMI and 7.1 surround sound output. The Q180 starts shipping at the beginning of December.