Boxee Box Getting Ready to Receive Live TV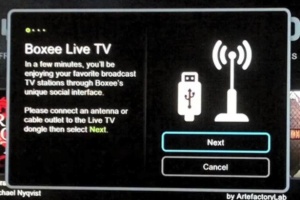 The Boxee Box is going to be receiving a 1.5 update soon, and with it will come the option to add a USB TV tuner for over-the-air and unencrypted cable television broadcasts. From the sound of things, this new live TV functionality is going to be prominently positioned on the home screen and include some sort of social media integration. Until hardware is available, details are going to be limited. There's no word yet on what the guide data will look like. There's also no word yet on whether the Boxee Box will be picking up DVR capabilities, though it looks unlikely. Will adding live TV functionality make the Boxee Box the perfect cord cutter's device?
However, the first glimpse at live TV on Boxee was nonetheless very revealing. A separate live TV entry in Boxee's setup gives users the ability to enhance their experience "by sharing viewership data with friends." Boxee has always been big on social and currently allows users to share their favorite videos both with other Boxee users as well as their Facebook friends and Twitter followers.