Acer Revo RL100-U20P Home Theater PC

Many home theater PC (HTPC) enthusiasts dream of a system that is as slim as other consumer electronic devices such as a dedicated Blu-ray player. It is also an expensive and difficult proposition for most; thus, when Acer introduced its newest Revo 100, many took notice. Not only is the Revo 100 only one inch high, it also has a unique slide-out keyboard/touchpad clearly designed as an input device for the ten-foot experience. With a sub-$600 retail price, the Acer Revo 100 which packs an AMD K325 CPU and NVIDIA ION GPU certainly deserves a closer look.
Specifications
Model

RL100-U20P

Enclosure Material

Black Plastic

Power

65W AC/DC supply

Operating System

Windows 7 Home Premium 64-bit

CPU

AMD Athlon II Neo Dual-Core K325 1.3GHz

Chipset

NVIDIA nForce 520 LE

GPU

NVIDIA ION

Memory

4GB DDR3 SDRAM

Hard Drive

750GB 5400RPM SATA

Optical Drive

BD Combo 4x BD-ROM/DVD/CD Write

Card Reader

1x Multi-in-1 MMC, SD Card, Memory Stick, xD (front)

USB

3x USB 2.0 (1 front)

LAN

Gigabit 10/100/1000Mbps

WLAN

802.11b/g/n Wireless

Audio

1x Headphone
1x Microphone
1x Optical S/PDIF
Dolby Home Theater v3

Input Device

Slide-out Touchpad/Keyboard

Weight

2.65 lbs

Dimensions

7.09" L x 11.81" W x 1.00" H

Warranty

One Year
Packaging and Hardware
The Acer Revo RL100 is packaged neatly and well-protected in an easily opened cardboard box. The contents are housed in formed plastic. An easier to recycle formed cardboard insert is generally preferred by the eco-conscious. Inside the package are the following items:
Acer Revo RL100
AC/DC power adapter
AC power cable
HDMI cable
Stand
Pad for slide-out keyboard/touchpad
Quick-start guide
Troubleshooting guide
Warranty card
The most striking aspect of the Revo RL100 out of the box, is its slim profile. At one-inch thick, it is even thinner than the Samsung Blu-ray player that was in our audio-video (A/V) cabinet where the Revo found a home throughout the evaluation. The black plastic construction feels solid except when applying pressure to the top center of the chassis. The layout of the ports seems logical for the most part, save for the headphone port; its location in the rear, makes it difficult to access in certain installations.
When using the included bracket, the RL100 can be oriented on its side which may fit some installations better than others. The bottom of the RL100 contains numerous stickers, logos and and chassis elements that make orienting the bottom towards a wall or cabinet desirable when installing vertically.. The stand provides a sturdy base and there is little danger that the Revo RL100 will tip over unless forced.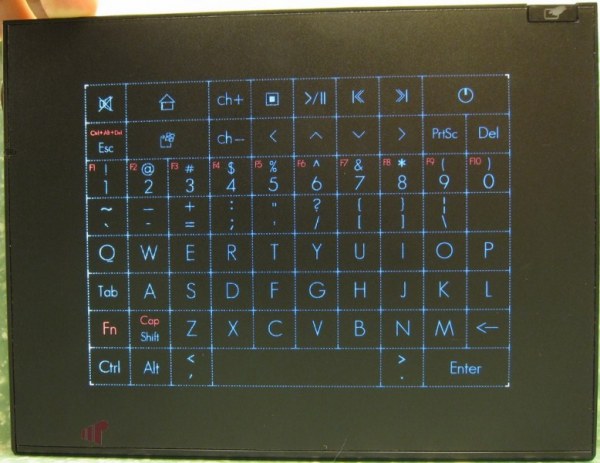 The touchpad/keyboard ejects easily from its dock in the front of the chassis by sliding a spring-loaded plastic piece on the side toward the front. On the touchpad/keyboard is a volume knob and a backlit function button that selects either touchpad or keyboard operation. Selecting "keyboard operation" causes a backlit keyboard to present itself which is a slick and impressive feature. Using the touchpad/keyboard as an input device did present a bit of a learning curve, as there was a tendency to tap too hard which caused hand fatigue. This obstacle was overcome with practice. The device is certainly no substitute for a mouse or full-size keyboard, but it is a compelling option for an HTPC's limited input needs. While the keyboard does present media control functions, they are not as satisfying or easy to use as a regular remote control, so it should be considered a companion to the remote.
Performance
Powering on the RL100 and getting to the desktop takes approximately fifty seconds. Unfortunately, upon booting, we are presented with a plethora of programs that many will not need or want, but are taking up valuable resources in the background.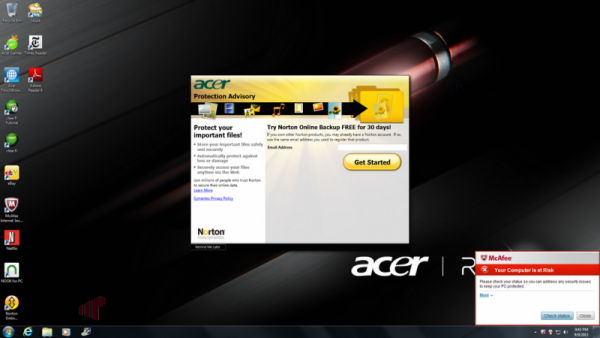 The first thing we did was watch an episode of Deadwood using the included Blu-ray player and Acer's Clear-fi software which utilizes a special version of Cyberlink's PowerDVD. Windows Media Center (WMC) fans will be disappointed that there is no integration of the software via a plug-in. Playback was mostly perfect although there was a glitch with audio and video stuttering that lasted about fifteen seconds during the approximately one hour viewing.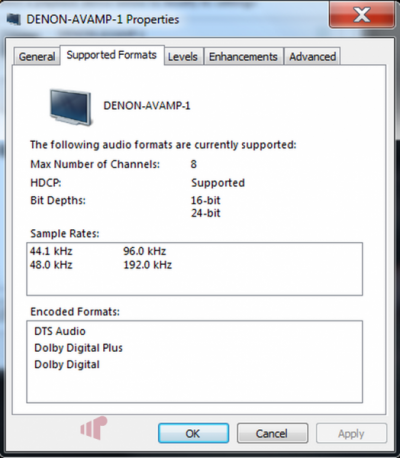 The DTS-HD MA soundtrack was also unavailable, as the NVIDIA ION does not offer support for HD audio formats so we had to settle for the lossy DTS core when using the included Clear-Fi Blu-ray playback software. The HD audio tracks can be decoded to PCM and sent via HDMI if another player with support is utilized such as ArcSoft's TotalMedia Theatre 5.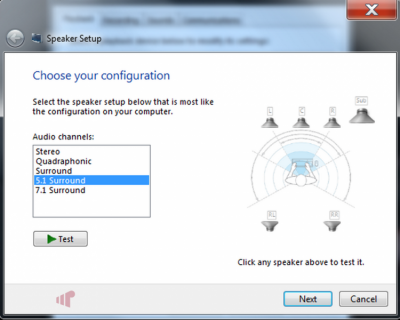 Another audio item of note is that when configuring Windows audio properties for 5.1 output, surround speakers could only be configured as rear speakers and not side speakers which is the more appropriate setting for proper 5.1 speaker installations.
The video levels output from the NVIDIA ION are consistent with previous NVIDIA reviews we've performed with video output properly constrained to levels 16 – 235 and picture levels utilizing levels 0 – 255. Most likely, NVIDIA makes this happen by compressing the video content levels from PC levels. Blacker than black (BTB) and whiter than white (WTW) video levels can be passed if the brightness setting of the driver is altered.
Real-world video reveals that the ION has a difficult time handling challenging 480i content as can be seen by the comparison examples from other platforms. The ION graphics also had noticeable interlacing artifacts when viewing high-motion 1080i content.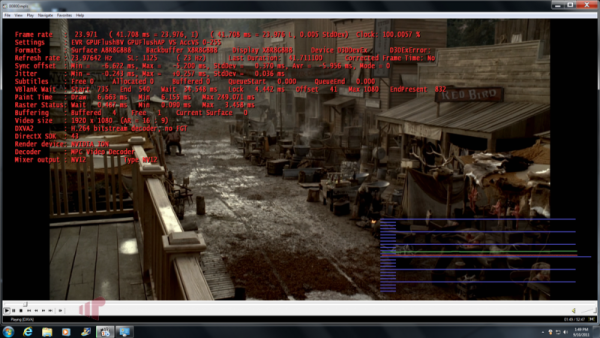 For those looking to playback 24p content at the proper refresh rate of 23.976 Hz into a display, the NVIDIA ION offers 23.971 Hz precision, so there will be an occasional frame drop unless time is taken to configure a custom resolution to achieve a more precise precision.
| State | Power Range (W) | Average Power (W) | Average CPU (%) |
| --- | --- | --- | --- |
| Off | 0.7 | 0.7 | N/A |
| Standby (S3) | 2.1-2.4 | 2.3 | N/A |
| Idle | 21-25 | 23 | 1 |
| Full Load | 31.4-32.6 | 32 | 99.5 |
| MVC/DTS-MA – TMT5 | Fail | Fail | Fail |
| AVC/THD – TMT5 | 29.6-32.8 | 31.2 | 39.5 |
| AVC/DTS-MA – TMT5 | 30.1-31.9 | 30.5 | 42 |
| VC-1/THD – TMT5 | 29.1-30.6 | 29.9 | 38 |
| VC-1/DTS-MA – TMT5 | 29.9-31.0 | 30.5 | 43 |
The Revo RL100 is relatively energy-efficient, consuming no more than about 33 watts under load and idling about 23 watts. It is eclipsed in both power and efficiency by some of the newer platforms available. We also learned that 3D Blu-ray content is simply not viable on the platform as playback was not smooth enough to be watchable by even the most casual viewers.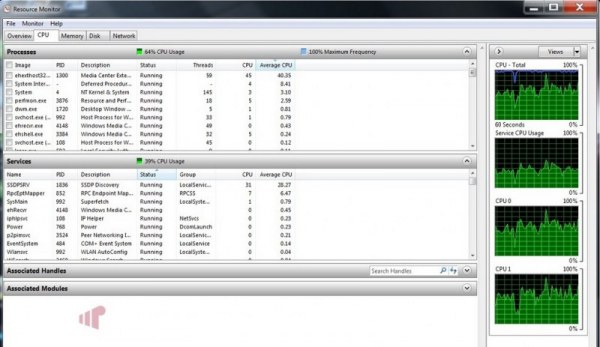 A common worry with lower-powered platforms like the Revo RL100 is whether it will be able to play back Netflix smoothly. With Silverlight 4, smooth performance has never been possible at the test location even on more powerful systems with Intel and NVIDIA graphics and the Revo RL100 seemed no worse though the system was taxed heavily and there was literally no headroom for any other processes that might need to be run in the background. Silverlight 5 RC performance on the higher-end Intel systems did clear up most judder, yet there still seems to be work to do on the ION platform because performance became unacceptably bad even for casual viewers on the Revo RL100 with video becoming a slideshow.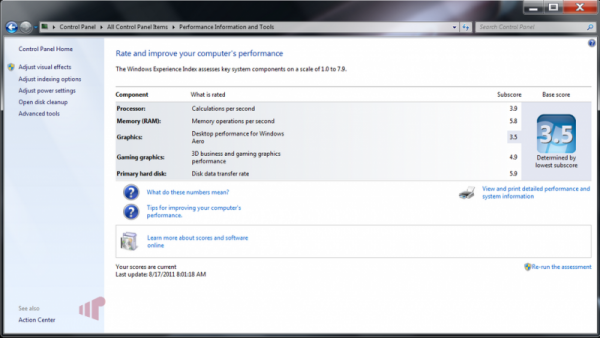 Checking out the Windows Experience Index (WEI) reveals a relatively modest system. Of course, the WEI only gives a rough estimation of how the system might perform, so more specific testing is needed to truly determine how useful the system is.
ShowAnalyzer (SA) is a tool often utilized by HTPC enthusiasts to analyze content and identify commercial breaks. It is also extremely system intensive. As we can see, the Revo is significantly slower than Intel parts that we have previously tested.
Next, we fired up Handbrake, a popular CPU-based transcoder. It's not surprising to see the K325 behind the Intel parts, but what is interesting is the significant performance increase over AMD's own E350 Zacate part.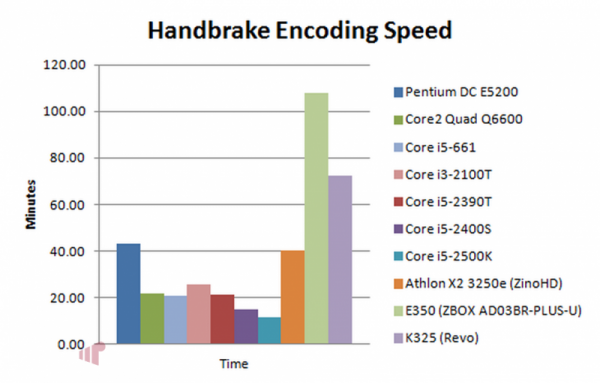 Looking at power consumption, the Revo consumes only slightly more power while encoding than the E350.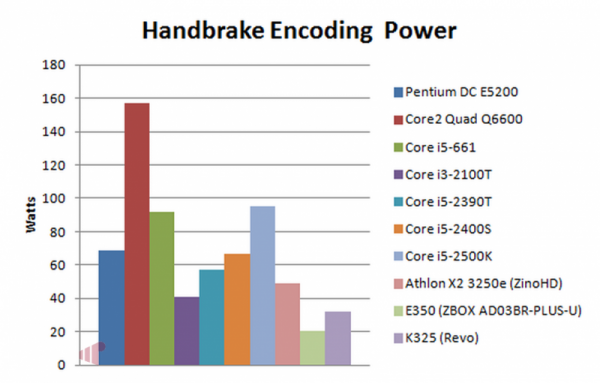 Another way to transcode content on the Revo platform is to utilize the CUDA instruction set contained in the NVIDIA ION GPU. For our tests, we used ArcSoft's Media Converter 7 with the HTC EVO 4G transcoding profile.
It is clear that ION's CUDA woefully underperforms the competition in both raw speed and efficiency.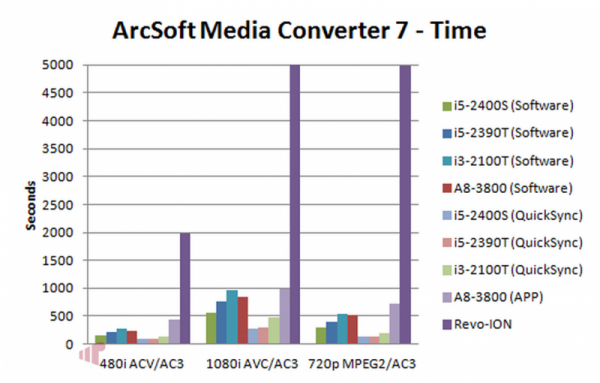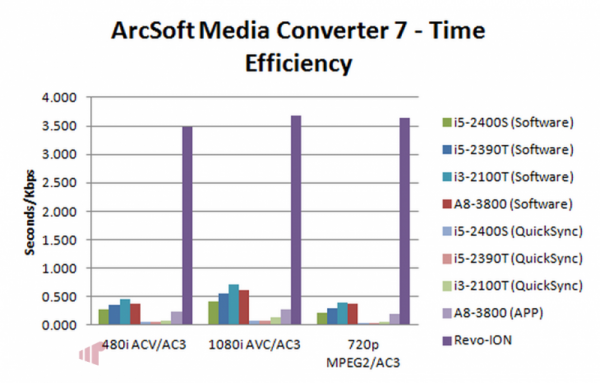 Raw power usage is the lowest on the Revo platform, however…
…it is not as efficient as some of the much more powerful parts.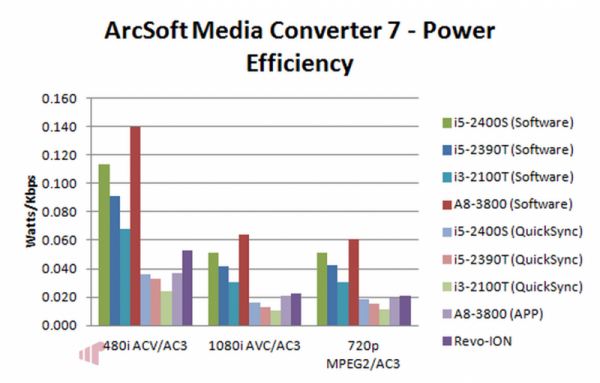 Looking at the CPU utilization, it is clear that CUDA does offload the task enough so that the CPU could be used for some other task.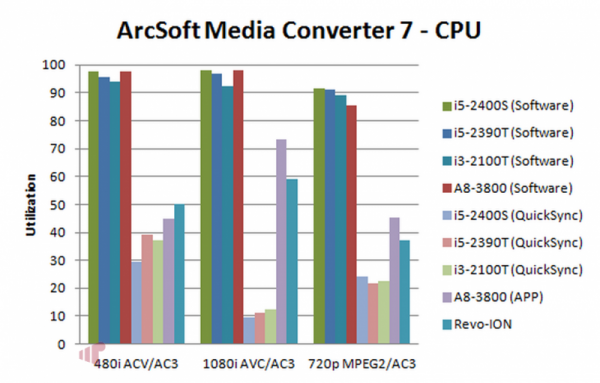 For HTPC use, connecting a USB CableCARD tuner such as the Hauppauge WinTV-DCR-2650 to the Revo RL100 is likely a common scenario. With two programs recording and viewing a recorded program, the CPU can barely keep up, but any other processes may destroy the experience.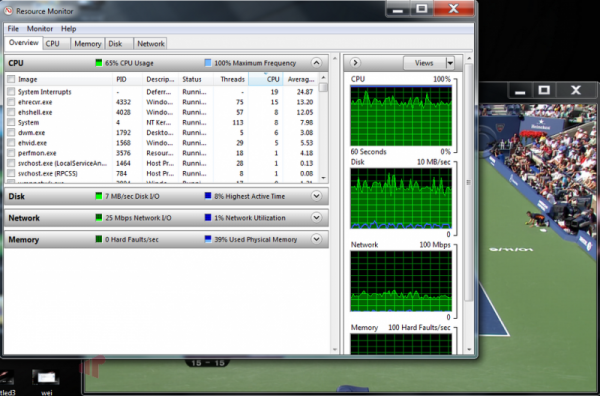 We did encounter one unfortunate incompatibility with the Revo RL100 connected to a Samsung display via a Denon AVR-2112 AVR. With some recorded TV content, display synchronization issues occurred. These issues disappeared when bypassing the Denon AVR. The same recorded TV content could also be played back successfully with another HTPC connected to the Denon AVR.
In trying to debug the issue, several of the standard NVIDIA drivers were tried, but all failed to install due to "incompatible hardware." Only the drivers provided by Acer were allowed to be installed. This is definitely a weakness of the platform because it places users at the whims of Acer's support for the product in the future.
Conclusion
The Acer Revo RL100 is an HTPC that we want to love. It sports an attractive aesthetic and has a clever design featuring the innovative touchpad/keyboard. The small size and included stand provide a great degree of flexibility.
Depending on the expectation, the Revo RL100 can be a competent or a frustrating HTPC. The biggest potential issue with the system is the lack of CPU horsepower. It's enough for most tasks, but depending on what executes in the background, the performance may fall to an unacceptable level. Videophiles and HD audio bitstreamers should probably look elsewhere, as the system is clearly behind other platforms in quality and capability.
While being loaded with unnecessary software is an annoyance, a bigger annoyance is the fact that standard NVIDIA drivers can't be installed, so if improvements are to be had to the experience, they must first make their way through Acer.
If the occasional glitch can be tolerated and the use-case is for a system that only plays back one video at a time, the RL100 could be just the right match. Considering that the Revo RL100 includes Windows 7 Home Premium, Blu-ray playback capability and retails for less than $600, the value proposition seems favorable.
Pros
Attractive and slim
Power-efficient
Innovative touchpad/keyboard
Price
Cons
CPU performance walks a tightrope
Video performance not acceptable for videophiles
Can't bitsream HD audio
Incompatibility with Denon AVR-2112
Can't install standard NVIDIA drivers
Included Blu-ray software not integrated with WMC
Loaded with unnecessary "adware"
The Acer Revo RL100-UR20P can be purchased from Amazon.
Thanks to Acer for allowing us to evaluate the Acer Revo RL100-UR20P.