YouTube vs. TV: Call It a Draw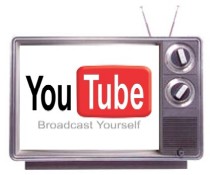 We've been hearing about YouTube working on live content channels to compete toe-to-toe with traditional cable networks, but it seems that YouTube is already holding its own. The most recent Global Internet Phenomena Report from Sandvine tracking Internet traffic reveals what we already know: Netflix crushes everyone. However, it also reveals that YouTube is pulling some big numbers of its own with the top five YouTube channels averaging as many daily viewers as the top five cable channels. Now, I've no doubt that things fall off pretty drastically from there, but it still says a lot about the draw of YouTube's content offerings already.
YouTube has been working hard on getting users to watch its videos on TV. For example, the site has been bringing its YouTube on TV interface, which was formerly known as YouTube Leanback, to an increasing number of connected devices, knowing that users watch twice as much YouTube content per day when using YouTube on TV as when accessing the site using the traditional desktop experience.