LOVEFiLM Users to Have Option to Sign In with Amazon Account Details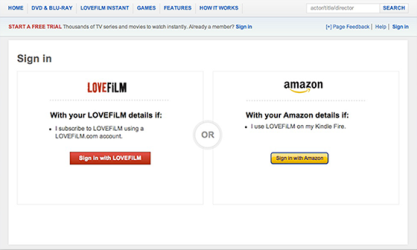 When Amazon announced the Kindle Fire HD earlier this month, the company also announced its first release of the Kindle Fire line in the UK. Given the popularity of the Amazon-owned LOVEFiLM streaming service, it should be no surprise that many Kindle Fire tablets will probably be used to tap into the LOVEFiLM library of content. Evidently LOVEFiLM and Amazon have decided that the release of the Kindle Fire provides an opportunity to start tying their two different account types together. Starting today, LOVEFiLM subscribers will be presented with the option to sign into the service using either their LOVEFiLM account details or their Amazon account details. The option is only intended for Kindle Fire users at this time, though LOVEFiLM is indicating that everyone will eventually be able to use their Amazon account details.
Why are you making this change to sign in?

In order to make streaming movies and TV on a Kindle Fire or Kindle Fire HD you need to be signed in to LOVEFiLM on the device using your Amazon e-mail address and password. Once this has happened, you should use your Amazon details to sign in to LOVEFiLM on the web and all other devices.