YouTube Updates Leanback Experience with YouTube TV and New UI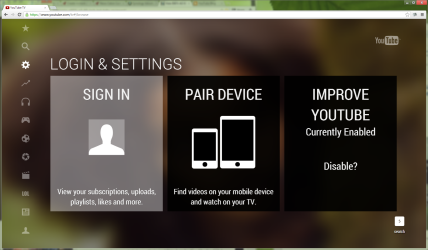 When I built my first HTPC 8 or 9 years ago, people who did not understand my geeky tendencies quite so well as my wife would ask me why I would want to hook up my computer to a TV, and it was often difficult to provide an argument that they would find compelling. Of course, that was before YouTube. A couple of years later, whenever someone would pose that same question, all I had to do was fire up YouTube on the big screen. YouTube has experimented with a couple of different 10-foot user interfaces intended to make navigating YouTube easier on the TV as part of a project called YouTube Leanback. Leanback is still there at YouTube, but the future belongs to YouTube TV, a new 10-foot interface at youtube.com/tv.
YouTube TV looks and feels much more like an app on a media streamer device than YouTube Leanback and I would not be surprised to see a YouTube TV app pop up at some point in the Chrome Web Store. It's not just the look and feel that is more app-like either. YouTube TV offers the option to login to YouTube and control YouTube TV from a mobile device. There are device codes and pairing codes that need to be swapped at different sites, but the process should be familiar to anyone who has ever activated an online service on a device like a Roku or WDTV. So familiar in fact that YouTube TV feels like a test run for the future of YouTube on streaming devices. At this point, the entire experience does seem to be rather insular. In my admittedly limited testing, the account login and device pairing option were only available when using Google Chrome. Firing up YouTube TV in Internet Explorer resulted in far fewer suggested viewing options as well. Also, the device pairing might be limited to Android devices at this point. With only iOS devices to test, I did not have access to the Menu Grid icon that leads to the field for entering the pairing code. Even without the mobile device remote control, YouTube TV is already a compelling upgrade over YouTube Leanback and an intriguing glimpse of the web app future of streaming media.
The new mode, accessible via YouTube.com/TV, allows users to more easily control the YouTube experience from a TV or large monitor.

You control the interface with your keyboard — using the arrow keys to navigate and certain letter keys to access various functions. For example, the "G" key acts as home and "S" acts as search.