XBMC Coming to GameStick Console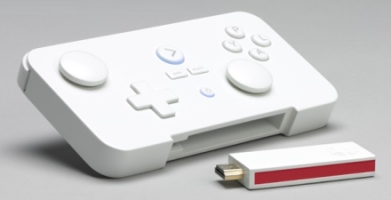 Ouya, the Kickstarter-backed, Android-powered game console is about to launch, and in addition to serving up games, Ouya will be serving up media via XBMC. However, Kickstarter has helped to fund a pair of Android-powered game consoles for this year. Competing against the Ouya will be the GameStick, a thumb drive-sized game console, and like the Ouya, the GameStick will be slinging media thanks to XBMC. GameStick's developer, PlayJam, has formed a partnership with Pivos to bring XBMC to their diminutive console. Pivos has a close relationship with the XBMC team having hired two XBMC developers specifically to help develop an Android version of the media center application for the Pivos XIOS DS Media Player, so it is certainly a good company to hook up with for adding XBMC support.
This deal is happening by way of an official partnership with Pivos Technology Group. "Working with Pivos and the XBMC community to integrate a world class media center into GameStick is a major step forward in our ambitions," said PlayJam CEO Jasper Smith.