Synology Introduces the DS213air and the DS2413+ NAS Devices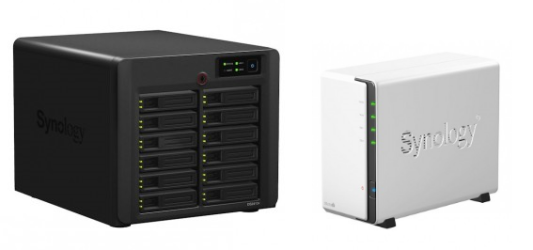 Synology has announced the launch of two new NAS devices, and side-by-side, they could not look more unalike. The DS213air is a sleek, petite, i-stlye box that could easily pass for a UPS rather than a NAS. It is undenaiably geared toward the consumer market. Not just because it's cute and priced right at $307, but because it comes with an 802.11n radio built-in. The integrated Wi-Fi can not only be used for connecting the DS213air to the network wirelessly, however ill-advised that might be, but it can also be used to turn the DS213air into a wireless hotspot or a wireless router when connected over Ethernet.
The DS2412+, on the other hand, is a 12-bay beast of a NAS. At $1700 and packing features such as ADS support for up to 100,000 users or groups, the DS2413+ is squarely aimed at the SMB market, though it sounds like Synology is also trying to make a case for a role in the professional photography market as well. I suppose if one had enough Blu-Ray discs that they absolutely had to rip to ISOs, there could be case for the DS2413+ at home, but the DS213air sounds like it might have real potential.
The DS213air is one of the innovative products to grace the NAS market this year. In their quest to offer differentiating features, Synology seems to have found an interesting niche. The DS213air is based on the DS213 platform (Marvell Kirkwood based 2-bay NAS). It integrates a single band (2.4 GHz) 802.11n radio (we are awaiting clarification on the exact speeds – 150 Mbps / 300 Mbps / 450 Mbps.