TViX Xroid A1 Smart Multimedia Payer Review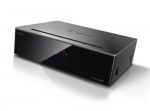 Android has been taking its sweet time infiltrating the media streamers of the world since it first cropped up as a topic of conversation at CES 2011 and it's been awhile since I last saw a review of a new media streamer running Google's OS. I have always liked the looks of DViCO's TViX line of media streamers and this review of the TViX Xroid A1 Smart Multimedia Payer Review suggests that Android may have found a good match with the Sigma Design SMP8657.
By using the latest Android OS by Google TViX wants to elevate the Xroid A1 from just being a very good media player to being a smart media player and by smart they mean being able to use the device for far more things than what your average media player can do. So you can actually surf the internet without limitations, share files online with your friends and basically use any Android compatible application on the internet.