Popcorn Hour A-300 Announced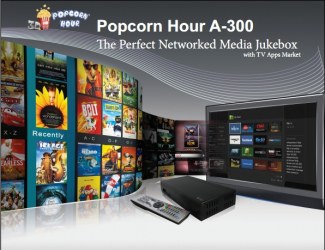 Syabas recently took to their user forums to announce their next Popcorn Hour media streamer, the A-300. The Popcorn Hour streamers have always been good solid entries into the market, and this new model looks to continue that trend. The Syabas folks are providing pictures and videos in their forum announcement of their new Flash-based user interface. It looks slick and smooth. Like Western Digital, Syabas has consistently put a lot of effort into building on and enhancing their UI, but where I've always felt that the Popcorn Hour excelled was in its support for third-party jukeboxes and media servers. Based on the provided specs, I'm not completely certain that trend is going to continue. We will have to wait and see when the A-300 starts shipping.
The Popcorn Hour A-300 should be available starting on October 18th, but no word on pricing at this point.
We finally get true GbE (part of the core SoC package) in a media streamer. The A-300 has an aluminium body and is also fanless, ensuring quiet operation. Best of all, Sigma is finally supporting Real Media decode in the 8647, and A-300 now gets the same codec compatibility as the countless other Realtek based media streamers.