Mela is to Bollywood as Netflix is to Hollywood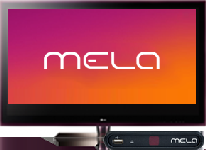 The surest sign that a new industry is here to stay is when new entries start popping up in the market to target the niches. CrunchyRoll has anime. Chow has cooking. Mela has found themselves a big niche to fill by targeting the market for Bollywood films with its new media streaming service. Think Netflix, but loaded with Southern Asian content instead of Southern California content. Mela is even taking a similar approach by rolling out its service with a single hardware device, though they are selling it themselves instead of through a partnership as Netflix did with Roku, with plans to spread across the app and device ecosystem.
Launching as a subscription service à la Netflix or Hulu Plus, Mela has more than 500 Bollywood movies available for on-demand viewing, as well as a total of 45 live TV channels. The service today is available for $149 with the purchase of a streaming box that will include a year's subscription for on-demand movies, 20 live TV channels, and a choice between one of two regional live TV plans based on language. Otherwise, the subscription TV plans will go for $9.99 a month each, with access to the on-demand movie service set at $4.99 a month.