Barnes & Noble Announces Nook Video to Accompany New Nook Tablets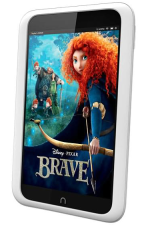 Barnes & Noble announced two new tablets this week, the Nook HD and the Nook HD+. Last year, the Nook Tablet and the Kindle Fire were the big contenders in the media consumption tablet wars. This year, B&N not only needs to contend with an updated Kindle Fire, but also the Google Nexus 7 and potentially the oft-rumored iPad Mini. To help out, Barnes & Noble also announced their new Nook Video service this week. The Nook Video announcement quickly got lost in the shuffle, but with partners like HBO, Sony, STARZ, and Disney already on-board, the movie and TV rental and purchasing service promises to hit the ground running. Nook Video will be an UltraViolet service, allowing users to store their digital copies from physical media in the Nook Cloud. What's more, Nook Video will be available as a cross-device app, further expanding the potential of the service to interoperate with a variety of devices, an important consideration for mixed platform and mixed device households. This could be a particuarly good move as the Nook line has established itself as a favorite secondary family tablet as evidenced by B&N's announcement that the new Nooks would have multi-user profile switching capabilities, a rarity in tablets to date. Barnes & Noble has not announced pricing or an exact launch date, though with the new Nooks due out at the beginning of Novemeber, we probably don't have long to wait.
Partners so far include HBO, Sony Pictures Home Entertainment, STARZ, Viacom and Warner Bros. Entertainment, plus "favorite movies" from Walt Disney. "Other leading studios" will be announced soon, according to the release. For now, Paramount and NBC/Universal are missing.

Barnes & Noble is partnering with UltraViolet, the initiative from Hollywood studios that lets viewers watch content across devices and aims to break Apple's stranglehold on the digital movie market.