FAVI SmartStick Announced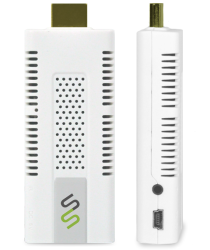 A big part of the appeal of the forthcoming Roku Streaming Stick is the idea of having the power of a full Roku box plugged in and hidden away behind the TV itself. Roku has already begun talking up their Roku Ready branding logo which serves to underscore the reality that the MHL-enabled Streaming Stick is going to be reserved for newer TVs and receivers. For anyone running an older TV or receiver, or not necessarily interested in joining the Roku-verse, then FAVI Entertainment would like to introduce you to the FAVI SmartStick. The FAVI SmartStick is an Android media streamer squeezed up into a small package so that it can be plugged in and hidden away behind the TV. One end plugs into an HDMI port and on the other end is a micro-USB port. The included micro-USB to USB adapter is intended to plug into the TV's USB port to power the device, though the company also sells a USB power adapter in the event one's TV lacks a USB port. The SmartStick will come in 4GB and 8GB capacities for $49.99 and $79.99 respectively and should be available by the end of October. The Wi-Fi-enabled SmartStick will be running Ice Cream Sandwich and have full Google Play Store access and DLNA support. The company has a video of the FAVI SmartStick in action up on their website which suggests that the SmartStick UI is going to be a pretty thin layer, so things will be largely cursor-driven once one gets into an Android app, though is not uncommon among Android-based media streamers. Interestingly enough, the SmartStick comes with an infrared remote control, so using the SmartStick should be fun for anyone who actually takes FAVI up on their offer of installing the SmartStick behind their TV. Good thing the company is also selling a mini wireless keyboard for $39.99.
If you thought smart TVs were only for the privileged few, think again — a technology that once cost hundreds of dollars can now be had for the low price of $50. The FAVI SmartStick is a small dongle that can be plugged into any HDTV, instantly transforming the device into a full-blown Android-powered smart TV with the ability to stream music and movies or browse the Web. The stick runs Ice Cream Sandwich and is equipped with 4GB of storage, Wi-Fi connectivity, DLNA support for media sharing and access to the Google Play Store.