Redbox Signs Warner Bros. for Redbox Instant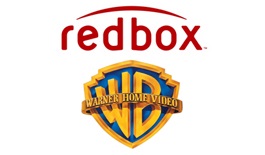 Verizon and Redbox have already indicated that they hope to launch their Redbox Instant streaming service in the next couple of months, but other than stating that they plan to focus on movies rather than TV shows, the companies have not said much about the content they plan to offer. That's beginning to change. Warner Bros. is the first major studio to sign on to provide content for the fledgling service. There is no word on exactly what kind of movies or how many movies will be made available on Redbox Instant, but the deal does include UltraViolet support for Warner Bros. titles. The companies also announced that Warner Bros. will continue to supply rental DVDs and Blu-ray discs for the Redbox kiosks, but that Redbox will continue to honor the 28 day release window. Given Redbox's displeasure with the Warner Bros. release windows, it is difficult not to interpret Redbox's continuation of a release window as a concession to get the Redbox Instant deal in place. If Redbox Instant is still on track for a November or December release, then more announcements are likely forthcoming over the next couple of weeks.
When their previous deal expired Redbox said it would find other ways to obtain discs and offer them day and date to its customers, although actually finding them in kiosks could be tough. The new two-year deal covers movies that debut after January 1st, 2013, and claims to improve economics for both Warner (which has apparently seen fit to eliminate the delay entirely for brick & mortar renters) and Redbox.