Boxee TV Comes to Walmart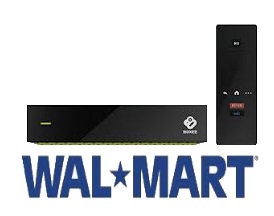 The recently announced Boxee TV is hitting the store shelves of the world's largest retailer, Walmart. The Boxee team was teasing that they had lined up a major exclusive retail partner for the Boxee TV, and it sounds like Walmart won't just be selling the Boxee TV, but will be helping out with some major promotion as well. In all honesty, I had assumed that this retailer would be Best Buy. Walmart is not the first place I think of when buying the latest in tech and gadgets, but it is difficult to understate the mainstream exposure that a Walmart end-cap can bring to a product. If Boxee and D-link can clearly communicate what the Boxee TV does, then this could be a major coup, though the impact of launching in time for the holday shopping season will be lessened by fact that the Boxee TV's cloud-based DVR is only going to be available in select markets at launch.
But now, with the Boxee TV, the startup has pulled off something special (or devilish depending on your view of the retailer) and managed to get the Boxee TV into Walmart.