Comcast Testing A La Carte Waters with MyTV Choice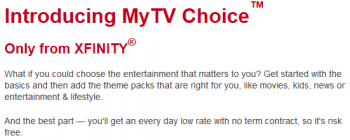 Comcast seems to be keeping itself busy cooking up all sorts of new services in its test kitchens in Pennsylvania. The Comcast chefs' latest concoction is a potentially tasty treat that tries to balance the exquisite flavors of true a la carte programming with the satisfying gluttony of channel packages. Labeled MyTV Choice, the service has been test run in a couple of regions as part a triple play bundle, but is now getting a stand-alone trial run in Charleston.
For eligible customers, MyTV Choice works like this: You choose from one of two 'Get Started' packages, which include the major broadcast networks and some additional basic cable networks. The choice basically comes down to whether or not you want to pay for sports networks like ESPN, which cost an additional $20 a month.
The two incremental 'Get Started' packages bring subscribers most of the heavyweight staples of subscription television, but then subscribers would have the option of adding on $10 channel packs. Each channel pack collects together channels that target a similar market or niche, such as a Kids Pack that includes channels such as ABC Family, Disney, and Nickelodeon.
It is not the holy grail of a la carte programming, but it might go a long way toward balancing the desire of customers to only pay for the channels they want against the reality that many of the channels that we watch and enjoy exist only because their expenses are subsidized at least in part by the fees that cable providers pay for more popular, mainstream sister networks. I can't see myself ever going back to paying for television, but having the option to not pay for the sports channels or lifestyle channels that I would never watch might be enough to at least get me to consider a subscription service. Might it be enough to lure back any other cord-cutters out there?