Clerks 2 and Alien Vs Predator review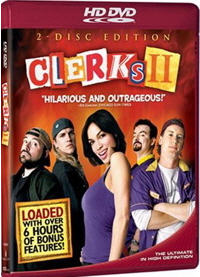 Ultimate A/V has a couple of next gen DVDs reviews up today. Clerks 2, the one that was made in the last decade, was released to HD DVD using the AVC CODEC at 1080p. The nice extra in this one is that it has support for Dolby TrueHD.
Second up is their review of Alien Vs Predator. This Blu-ray disc is presented using MPEG2 at a 1080p/24f resolution.
Both reviews are on the same page which can be found here:
Clerks II is presented here by Weinstein Company's Genius Products at 1080p and crunched with MPEG-4/AVC. It has a processed look to it that's very typical of today's movies, with garish colors, overenhanced grain, blown whites and also a very crisp, overly sharp look to the edges. If this were a DVD I'd expect to see edge enhancement halos accompanying this look, but it's a credit to AVC and HD DVD in general that such artifacts are nonexistent here. Essentially, this is a respectable looking disc that's reasonably sharp and probably very much what the filmmaker intended even if it's not reference material. And really, were you expecting this to be the next T2 of home theater demos? Besides, we see more than we want or need to see of Kinky Kelly anyway!