D-Link DSM-510 Streams HD Content to Your TV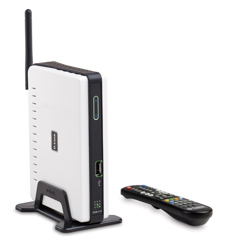 With a device like this, my concern is always on the limited number of decoders. Unlike an MCE Extender where you can at least use Transcode 360, what's to save you if a new codec comes out that this player doesn't support? And at $239, maybe a Wireless MVP from Hauppauge would be more appropriate…or even an XBox360 if MCE is your cup o tea.
The player connects to your home network via an Ethernet or wireless
(802.11g) connection (it can only do HD over a wired connection) and
has an HDMI output as well as support for optical digital audio. On the
video side of things, it can stream WMV9, MPEG-1/2/4, AVI, and XVID
files.
Read the rest here.