TiVo Mini to Bring Multi-Room TiVo to Life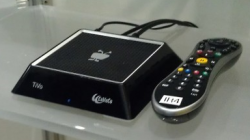 Extenders are back in vogue. There have been a number of intriguing extender-based, multi-room streaming systems to talk about this year. DISH has their Hopper and Joey combo, and of course, many of us around here are eagerly anticipating the Ceton Q and Echo, but before the year is out we should also have TiVo's version. TiVo first signaled their interest in moving in this DVR-less extender direction with the release of an Insignia TV that offered built-in TiVo streaming, but the stand-alone TiVo extender is coming soon and it now has a name.
TiVo's upcoming IP-STB has been been christened as the "TiVo Mini." This wasn't entirely unexpected, as I'd learned of it being referenced as such internally and believe it's popped up at a TiVo investor or industry talk recently.