Diamond Multimedia Releases AMP1000 Android Media Player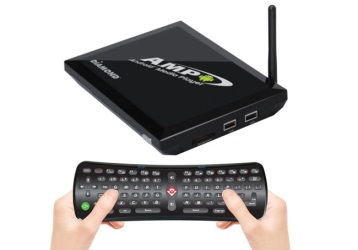 There was a time when anyone interested in video cards or PC TV tuner cards knew of a little company called Diamond Multimedia. Diamond Multimedia is not exactly the same company they once were, but they still dabble in PC multimedia add-ons and related devices, including media streamers. Their newest media streamer is the Android Media Player or AMP100. The AMP1000 runs Android 2.3 and aims to bring all the wonder of the Google Play app ecosystem to the living room. Diamond is also promising a future firmware update will bring Android 4.0 to the device. The AMP100 bundles a rather promising looking remote control/keyboard and promises support for all of the requisite file formats. The $119.99 MSRP would probably be a bit more palatable if the AMP1000 was shipping with Android 4.0, but if Diamond Multimedia can serve up better performance than some of the other low-cost Android media streamers floating around out there, then they might have a winner on their hands.
Diamond Multimedia is well known for its AMD graphics cards and USB capture devices. The Android Media Player, AMP1000, being launched today is the latest addition to their TV connectivity product line. The unit is being positioned by Diamond Multimedia as a standalone external Android-based media player, game box and Internet device for the big screen home entertainment center.