Diamond Multimedia STREAM2TV WPCTV3000 Miracast, iPlay, & DLNA Endpoint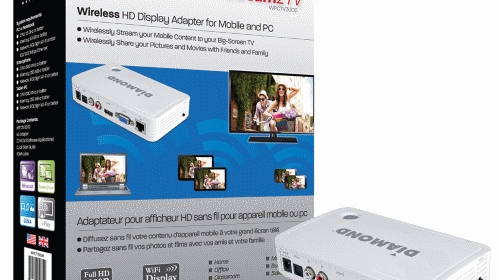 With the explosion in the use mobile devices for storing and playing content it is important to pick the right technology to push your media to the big screen when sharing the experience with multiple people. Whether it is photos, family videos, or Netflix choosing an endpoint which meets all your needs is essential. It is not hard to find a single device that handles Miracast or iPlay, but finding one that has both, plus DLNA, and can do digital and analog output is quite a bit more difficult. Diamond's $90/£110 WPCTV3000 includes each of those features on its spec sheet; let's see if it can deliver.
Device
At 15cm x 9 cm x 3.2cm the Diamond WPCTV3000 is quite a bit larger than most streaming endpoints. The size is put to good use however, as it provides space for Ethernet, TOSLINK, analog audio, HDMI, and VGA outputs next to the 5V/1A power input. USB is also provided on the front of the device, but it went untested because the manual lists its purpose as just for firmware updates, and one was not available. Power consumption is a reasonable 4.4W when running and ~0.7W when "off".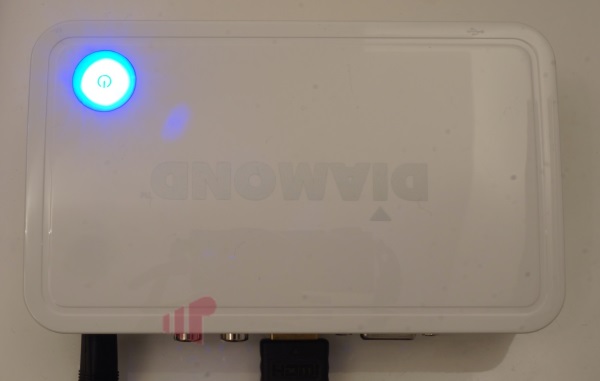 Overall there is not anything that notable about the industrial design of the Diamond WPCTV3000, but I do not mean that in a bad way. It is an unobtrusive, smallish box that just sits somewhere in the stack. Line of site is not required, so you can hide pretty much anywhere, and you may want to because the only real complaint that I have about its appearance is that the power light is blazingly bright – so bright that it was difficult to properly muffle it, even with a generous application of electrical tape. Oh, and it blinks when "off". Why do OEMs do that?
Use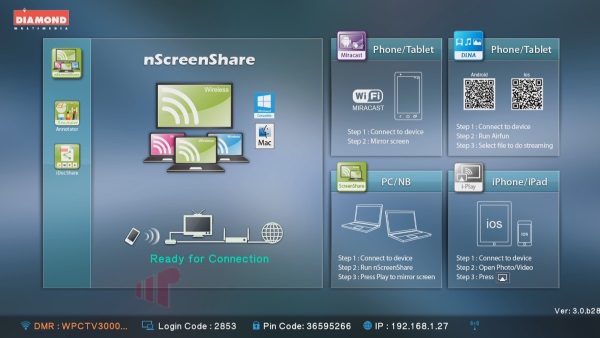 The Diamond WPCTV3000's strength is in all of the different wireless screencasting protocols that it supports. Including Miracast, DLNA (UPnP), iPlay, and via its Screencast application. Before discussing each implementation, I would like to point out how nice it was that the "home screen" provides a brief outline of how to get started with each.
Starting with Miracast, the Diamond WPCTV3000 works pretty much like any other HDMI Miracast dongle – which is a good thing. Digging a bit further into the functionality, there were a few oddities however. The first, is that for any device that supports HDCP the Diamond WPCTV3000 enables encryption, regardless of whether the content requires it. This means that for the vast majority of devices, including Windows 8/10 PCs and most Android handsets including those from Amazon, VGA output will not work. In fact the only device that I found that would output over VGA was the HDCP-lacking OnePlus One. Second, even though it reports support for 5.1 multi-channel audio internally, audio is unnecessarily down-mixed to two channels prior to output over HDMI.
DLNA/UPnP support is a bonus, not often found on these types of devices. You will need to use the AirFun application to control navigation, but it is really slick. During testing, I used it more than once to watch live TV directly from a SiliconDust HDHR DVB-T2 tuner (show above).
Generally the main draw to Miracast versus other screen sharing applications on the PC, is that Windows 8+ support it without installing any additional software. For older versions of Windows, or if you need to use a VGA display with the WPCTV3000 the nScreenShare software is available (shown above installed on a Windows 8.1 PC). The application provides some additional features, like the ability to draw on the screen, but you give up the ability to stream audio and VGA 1280×1024 maximum resolution cannot match HDMI's 1080p.
Unfortunately, where success was possible with the other screen sharing implementations Apple iPlay was only a source of frustration. The Diamond WPCTV3000 was visible to the iPad, and it would connect to it, but no audio or video would ever be streamed from the iOS device to the WPCTV3000.
Conclusion
In the crowded field of Miracast endpoints, inclusion of DLNA/UPnP support really makes the Diamond WPCTV3000 standout and goes a long way towards justifing the $90/£110 device's relative price premium versus this competition, if DLNA is important to you. When using Miracast, there were a few disappointments to be had from this jack-of-all-trades device however, with 5.1 audio support missing and a wonky insistence on forcing HDCP. Neither of these concerns were as troubling as its inability to actually support Apple iPlay – a feature touted on the box.
Pro:
Great feature set – something for everyone
Digital and analog outputs
Con:
Couldn't get iPlay to work
Miracast forces HDCP when it shouldn't
Power light is very, very bright and blinks when "Off"
Thanks to Diamond for providing the review sample.