Blinkx Is Coming to a Roku Near You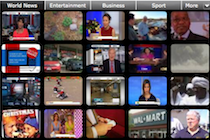 I'm not familiar at all with Blinkx but they seem to growing pretty fast. This announcement that they'll be on Roku boxes only makes it that much easier to consume.
The app has four categories to browse through: Sports, News, Popular and Fun, all of which draw from Blinkx's premium content partners. While the company started as just a video search engine, over the past few years Blinkx has shifted its business model to also offer an ad network to publishers. The company claims more than 720 content partners and an index of more than 35 million hours of video and audio content. While those partners were featured on Blinkx's site, as well as having ads delivered into videos on their own properties, Blinkx is now extending their reach to other devices.