Best Buy Says They're Not Gonna Price Match Their Website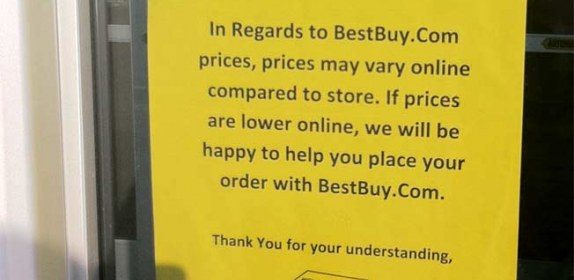 This isn't directly Home theater focused, but somewhat since they sell so much home theater gear. I guess this means I can't solely bash Fry's Electronics for their awful website-versus-store integration. Having worked at Best Buy when their website first launched (seemingly 10 years ago) I'm very surprised to see this as I thought they were much more tightly integrated at this point…who knew?!
Reader Daniel snapped a picture of this sign on the front door of his local Best Buy of a sign that just comes right out and says, hey, if you want the price shown on the Best Buy website, we'll be happy to sell you a computer that will connect to bestbuy.com so you can order it there and have it shipped to your house or held for in-store pickup. Ok, it doesn't really say all that, but it does say that they're not going to bother honoring the prices shown on the website within the store at all.