Skype, Rdio Founder Prepping Netflix Competitor Named Vdio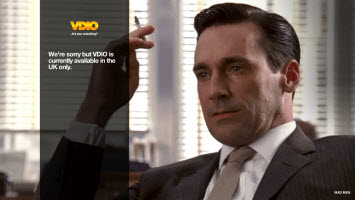 Janus Friis and Niklas Zennstrom founded Skype and Rdio, among other disruptive startups, and now Janus Friis has founded a new startup called Vdio. Skype looked to turn the world of telephony on its ear and Rdio took aim at the streaming music market, and if you haven't already guessed, Vdio will be looking to tackle the streaming video market. Little is known about the young startup at this point other than that it is in closed beta and will initially be available only in the U.K. where it will be looking to take on Netflix and LoveFilm.
This is all about subscriptions. Fris and Zennstrom wouldn't align Vdio closely with Rdio if the offerings weren't somewhat similar, and they wouldn't secretly work on a project like this if it was just another VOD rental property. It's possible that Vdio will offer some free content, just like Rdio does now, but the end game seems to be to compete with Netflix, and not iTunes.
To say that Janus and his team have been working in stealth mode is an understatement. GigaOm broke their story about Vdio earlier today, and a few hours later Vdio provided their first public statement to confirm the story and reveal a few more names associated with the fedgling company. Janus Friis's creations don't always go on to unbridled success, nor is this their first run at video streaming. The ill-fated Joost attempted to meld peer-to-peer technology to TV viewing with little success. That being said, Joost seriously lacked compelling content.
If Vdio can get the content owners onboard, build its catalog quickly enough, and build on Rdio's social media competencies, there is definitely room in the market for another subscription video service. It's not hard to imagine the content owners being willing to play along. Friis and the Rdio team were able to get the music industry to play ball despite Friss's involvement in KaZaa, and the movie studios have made no secret of the fact that they want to counter Netflix's growing influence.