HAI Offers Hand Held Home Control Solution with Award-Winning Snap-Link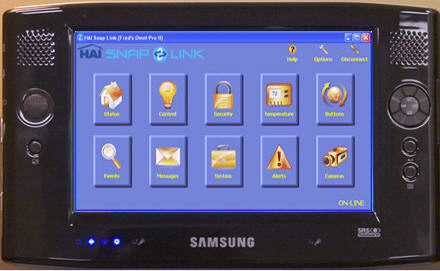 New Orleans, LA – February 7, 2007
HAI, the leading manufacturer of integrated automation and security products since 1985, is now offering their award-winning Internet access and control software Snap-Link for the Ultra Mobile PC platform putting wireless home control in the palm of your hand.
Snap-Link is software on a USB flash drive that plugs into any Windows(TM) computer (Windows 98SE(TM) or higher – including Vista(TM)). Snap-Link communicates through an encrypted Ethernet connection directly to a HAI home control system. It gives homeowners the ability to monitor and control lighting, security, temperatures, webcams, whole home audio, and more. Snap-Link is secure, very easy to use, requires no installation and no dedicated PC or server at the home. With the new enhancements Snap-Link can now be used on an Ultra Mobile PC anywhere in the home as a wireless touch screen.
"Snap-Link is a very convenient and versatile interface for homeowners and therefore a powerful selling tool for builders trying to differentiate themselves from the competition," explains HAI President Jay McLellan. "With the new enhancements a homeowner can plug Snap-Link into a handheld device such as the Ultra Mobile PC and have touchscreen access on a fully functioning PC that can be carried around the house."


Snap-Link is currently shipping and has a suggested retail price of $99. There are no monthly fees or subscriptions associated with this software. Snap-Link has been awarded the 2007 CES Innovations Design and Engineering Award in the Integrated Home Systems category, was designated as a Finalist for Electrical Contracting Products' 2006 INNOVATION Awards and was awarded a CHIP (CePro High Impact Product) by the readers of CePro magazine.
HAI products are sold through a worldwide network of Distributors and installed by over 1000 trained dealers. For more information on HAI's Snap-Link or other award winning products, please visit www.homeauto.com or call (800) 229-7256.