Kwikset & ipDatatel Announce Zigbee Integration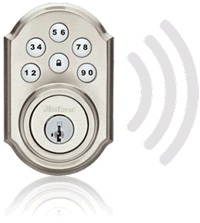 When I was building my home automation (HA) system, the lack of devices and good integration between those devices was the main reason I settled on Z-Wave. In many ways Zigbee is a superior technology though, and also has the benefit of being supported by many chip manufactures (Z-Wave is controlled by Sigma Designs) so it's great to see product announcements like this one by Kwikset and ipDatatel calling out explict support as part of a "Turnkey Security System". I would love to see more of these, as well as a thriving DIY device & controller market for Zigbee.
Full PR after the click.
KWIKSET SMARTCODE™ LOCKS WITH HOME CONNECT™ TECHNOLOGY

NOW INTEGRATE WITH IPDATATEL GATEWAY

Combined with ipDatatel's BAT Product,

Locks Become Part of a Powerful Turnkey Security System

LAKE FOREST, CALIF. (July 5, 2013) – In a continuing effort to offer consumers locks that are a fundamental part of a complete security and home automation system, Kwikset announces a new integration with ipDatatel, an innovator in the telecommunications and security industry.

As a result of the arrangement, the Zigbee version of Kwikset's SmartCode™ deadbolt locks with Home Connect™ technology will now integrate with ipDatatel's Gateway product. The Gateway — which boasts firmware that is 128 bit encrypted and password-protected — provides communication from the Internet to a variety of home systems, including HVAC, lighting, home entertainment, and more.

The Zigbee version of the Kwikset SmartCode deadbolt locks with Home Connect technology are the first locks that work with the ipDatatel Gateway and capitalize on its home automation capabilities. When connected to the Gateway, the SmartCode locks will offer homeowners their full array of security and convenience features, such as: remote locking and unlocking via smartphones and tablets; communication with other wireless products in the home; and receipt of text messages regarding lock status. A single Gateway is capable of managing up to five lock controls.

Further, when ipDatatel's Cellular Broadband Alarm Transceiver (BAT CDMA) is added, the SmartCode locks can be fully controlled through the home's existing security system. This allows the homeowner to configure a wide array of customized security scenarios, including automatically locking the SmartCode locks upon arming the security system.

ipDatatel's BAT CDMA provides low cost "Dual Path" communications for alarm and home automation signaling via cellular and/or Broadband transmission. The BAT CDMA is extremely versatile, as it works with all alarm control panels that utilize Contact-ID to provide secure and cost-effective Dual Path – IP / Cellular alarm transmissions, virtual keypad, and notification. ipDatatel's BAT CDMA product won Best in Residential Monitoring at both the recent ISC West show in Las Vegas and Electronic Security Expo in Nashville.

"In reconfiguring our Gateway to accommodate Kwikset's Zigbee SmartCode locks, we've provided our customers with access to one of the most high-quality security devices on the market," said Russell Vail, ipDatatel president and CEO. "What's more, bringing our BAT products into the picture gives homeowners the opportunity to tie peripheral Zigbee devices such as the Kwikset lock directly into the security system — the only platform that is truly monitoring all movements within the house. Ultimately, it makes a smart home even smarter, from a security standpoint."

"The integration of our SmartCode lock with the ipDatatel Gateway is a further example of Kwikset's commitment to partnering with the premier security and home automation players in the market," said Keith Brandon, Kwikset's director of Residential Access Solutions. "We are not only interested in bringing increased security to homeowners but also in providing them with enhanced home automation capabilities. This association dovetails perfectly with that objective."

Kwikset's SmartCode deadbolts and levers with Home Connect technology integrate with home security and automation systems. Features of the locks include: Kwikset's patented SmartKey® re-key technology, that allows homeowners to re-key their locks in seconds without removing the lock from the door; BumpGuard™ technology that protects homeowners from lock bumping; easy, one-touch programming; the ability to integrate with the widest variety of wireless security and home automation platforms in the industry; and 20 different styles/finishes.

About ipDatatel

ipDatatel manufactures IP communicators for multiple alarm control panels, and offers interactive services such as a fully featured virtual keypad, notifications, full central station reporting, and Zigbee peripherals such as thermostats and lighting controls, as well as much more. ipDatatel was founded in 2007 by veterans of the electronic security business that have more than 37 years of combined experience: President and CEO, Russell Vail and Vice President of Sales, Kurt Burr. Additional information can be found at www.ipdatatel.com.

About Kwikset

Kwikset, the leader in residential security, manufactures and markets a complete line of door locks and door hardware, including door knobs, door levers, deadbolts, handlesets, pocket door hardware and electronic keyless entry locks for residential and light commercial applications. Kwikset's SmartCode™ locks with Home Connect™ technology are the industry's leading wireless, access control lock solution for the digital home.

About HHI

Kwikset is part of Hardware and Home Improvement (HHI), a major manufacturer and supplier of residential locksets, residential builders' hardware and faucets with a portfolio of renowned brands, including Kwikset®, Weiser®, Baldwin®, National Hardware®, Stanley®, FANAL®, Pfister™ and EZSET®. HHI is a leader in its key markets with #1 positions in U.S. residential locksets (Kwikset), Canada residential locksets (Weiser), U.S. luxury locksets (Baldwin), and U.S. builders' hardware (Stanley-National Hardware), #2 in Mexico residential hardware (Fanal), and #3 in U.S. retail plumbing (Pfister). Headquartered in Orange County, California, HHI has a global sales force and operates manufacturing and distribution facilities in the U.S., Canada, Mexico and Asia. HHI is a division of Spectrum Brands Holdings, Inc. (NYSE: SPB).

About Spectrum Brands

Spectrum Brands is a global, diversified consumer products company and a leading supplier of consumer batteries, residential locksets, residential builders' hardware and faucets, shaving and grooming products, personal care products, small household appliances, specialty pet supplies, lawn and garden and home pest control products, and personal insect repellents. Spectrum Brands employs over 12,500 employees worldwide and sells to the top 25 global retailers with products in more than one million stores.

###