Mythtv for Windows options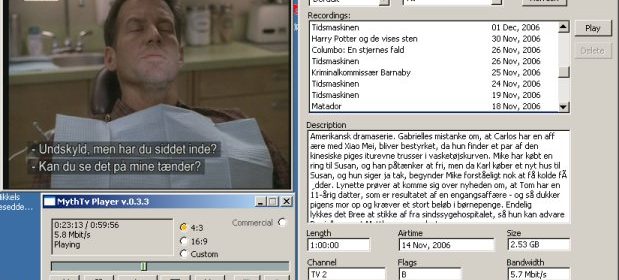 As most of you probably know, I've been using Mythtv for my HTPC software of choice for quite some time now. It has been very stable for me to use and I've had it running in my house (barring system hardware destruction) for about 4 years now.
Since we found out that my daughter was on her way about two and a half years ago, I have been working off and on trying to get a way to access my Mythtv stuff from my Windows based systems; originally just my wife's laptop, but since then I've added my own Windows based laptop as well as made some other systems dual-boot (Linux and Windows). Since I've been working on this off and on for a while now, I figured it was time to share some of what I've learned so far.
To start off with, I am aware of four different options to playback
Mythtv files under Windows. They are listed in order of how much I
know about them at the moment.
I am intentionally leaving out Mythtv based LiveCDs such as KnoppMyth
for this roundup because I want to focus on apps that can run directly under
Windows.
First up is Mythtv Player. This software has been around for a couple of years now. The
author's intention was not to provide a full Mythtv Frontend with all
of the features that it would entail. Instead, Mikkel was focusing on
providing a simple way to access all of the recordings on the backend
and play them back under Windows. To this end, the software has worked
out very well. There have been a few enhancements which provide some
additional backend status and extra controls, and there's even a "beta"
version that allows the user to watch LiveTv. The down side of this
software is that there was always only the one developer working on it
and after almost two years with no new releases, he has decided to hand
off the development to someone else if anyone is interested.
Mythtv Player screenshot from the developers website
Next up is the Mythtv on Windows Port . There are a group of Mythtv developers that are working on porting the entire Mythtv frontend and eventually the backend to work under Windows. On the plus side, this brings the entire feature set of Mythtv to Windows. The drawback is that it pulls code from the various Mythtv development branches and the developers do not always keep in mind that some users are trying to compile the code under Windows. This means that some revisions of Mythtv will compile properly while others will not. The other drawback is that some of the tools that the build script depends on get updated from time to time and break the script (the build script will download all of the tools that you need to compile and build Mythtv). So from time to time you need to manually patch the build script until the developers catch up and patch their main script. They are usually pretty good at keeping on top of this but it sometimes lags behind by a few days. Once it's built though you have a very functional client setup. And if you do run into trouble building it, there's a very responsive Mythtv developers mailing list that will help you out if you can provide enough information on where it's breaking.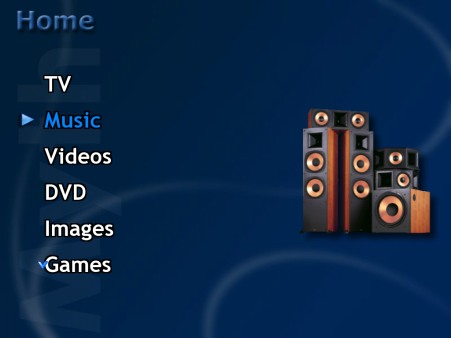 Mythtv Main Menu
Another option that allows you to watch your content under Windows (as well as pretty much anywhere else) is via the webserver that is built into Mythtv (Mythweb). This webserver runs on the backend system and any web browser can access it (depending on how you have the webserver and your network in general configured). This webserver provides the bulk of the functionality that you can get via a Mythtv frontend but obviously you are using a mouse and keyboard and not a remote control to navigate it. The drawback to this interface is that the videos are streamed via a flash plugin so you do lose some video quality. I have not messed around with this option extensively so I can't comment much more on its advantages or disadvantages.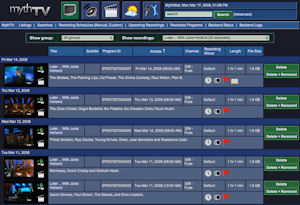 Mythtv's web interface
The last option that I am presently aware of is called MythBox. This one I only recently found out about but plan to check out in more depth in the coming months. This application is a Mythtv frontend for XBMC . I have not had a chance to test drive it yet but it shows lots of potential as another alternative.
As is generally the case for everything related to Mythtv, all of these applications are free, but some require more of your time to get up and running than others. The easiest (from the point of view of the Windows box) is the webserver since that is done on the backend system and you only need to point your browser to the correct address. Next would be the Mythtv Player because it comes with a standard Windows installer to run. I am placing the ported version of Mythtv next because MythBox is an unknown entity for me at this point in time. Hopefully it will be easier to install and configure in the end though.
I hope that you have all gained a bit more knowledge on the various Mythtv alternatives for Windows and will try some of them out. Keep in mind that each of these options assume that you have a regular Linux based Mythtv backend running somewhere as well. And if you know of any other alternatives that can run natively under Windows, please let me know as I would love to check them out.