Sky Anytime+ Extends Reach, Adds iPlayer and ITV Player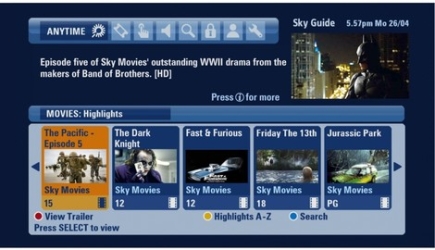 Sky has unleashed a torrent of announcements for fans of streaming media in the UK. First up, the company is expanding the availability of their Sky Anytime+ VOD service to all Sky+HD subscribers. The service had previously only been available to Sky Broadband subscribers, but the expansion of the service means that Anytime+ will be available to Sky+HD subscribers regardless of their broadband provider. Sky is also announcing that it has secured new deals with ITV and the BBC that will add the ITV Player and iPlayer to Anytime+ and expand not only the archive content that Sky already had access to, but also provide access to catch-up programming. Now if Sky could just figure out a way to make Anytime+ available on my side of the pond.
It was previously open only to customers who also hitched to Sky Broadband, but that restriction's being gently relaxed: opening it up to all five million Sky+HD box owners. It's also somehow sweet-talked deadly rivals BBC and ITV into letting their offerings onto the platform — with ITV Player arriving tomorrow and iPlayer slated for arrival later in the year.