Samsung Optical SMART Hub Brings DVD to the Network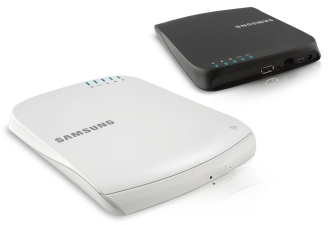 Every so often a product comes along that is described as a product in search of a market. Samsung may have come up with the poster child of such products with the Optical SMART Hub, a networkable 8x DVD burner. The Hub also sports a USB port for attaching external storage, turning the Optical SMART Hub into a NAS. The feature that caught my eye is the ability to play DVD movies over the network. Playing DVDs across a network was always a sticking point for Media Center Extenders, so it will be interesting to see how this device takes advantage of DLNA to enable network playback. I could have used it more about 8 years ago though, Samsung.
If that isn't enough convergence, let's throw in Android and iOS apps that allow you o stream content from the device and (in the case of the Android app) back up files from your smartphone or table to DVD or USB storage. Oh, and it'll work with your Samsung SmartTV too, just to add another device to the mix.