Lenovo K91 Android TV Hands-on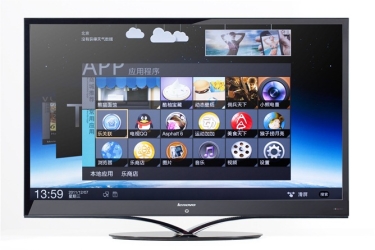 There have been a plethora of Google TV announcements at CES this year, but Lenovo decided to take a different tack with their SmartTV K91. They did go with a Google platform, but Lenovo decided to go with Android 4.0 instead, making the K91 the first Ice Cream Sandwich TV. Take away the 55 inch screen and the Lenovo K91 starts to sound more like a tablet with its Qualcomm 8060 Snapdragon processor and integrated 5MP webcam. Lenovo's custom UI is already looking pretty nice and Lenovo has the opportunity to maintain the consistency of their design with the curated app store. It's unfortunate that Lenovo doesn't have plans to bring the K91 to the US at this point because they seem to be taking an interesting approach with their smart TV platform. Be sure to check out PCMag's collection of images to get a good look at what we are missing out on.
What's the difference between a Google TV and an Android TV, you ask? With an Android TV, you can better integrate all the elements of the UI, and add more customization, Lenovo said. The K91's "Sandwich" user interface brings three key elements together: on-demand video, apps, and, traditional television programming.