Roku Announces Over the Top on Stick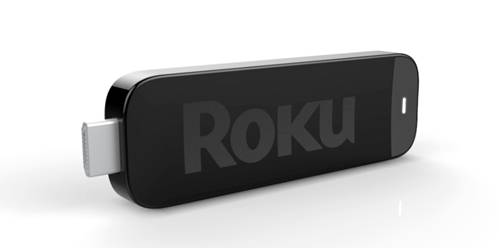 If your display is more than a year old, you know what it's like to have been left behind by the OEM's Over the Top (OTT) platform. It's not hard to fix that by putting a Roku or other OTT streamer next to the display, but in some places (like a slim wall mount, bedroom, etc.) it can be difficult to get the install looking as clean as it should. Roku will be addressing this issue, with their newest streamer, which will connect to any Mobile High-definition Link (MHL) equipped device (not just TVs), which eliminates the need for a separate power source.
The PR (available on the next page) doesn't state what resolutions and features will be supported, but let's hope it's is the full feature set (1080p & DD+) offered by the top-of-the-line Roku 2 XS as well as HDMI CEC (which is currently missing), because needing two remotes to enable this incredibly slick solution would be a thumb in the eye.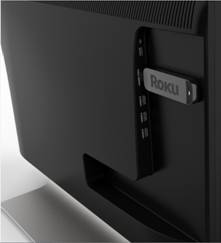 Saratoga, Calif. – Jan. 4, 2012 – Building on the success of the award-winning Roku streaming players, Roku® today unveiled a new solution to make a better Smart TV. The new Roku Streaming Stick™ is a wireless device about the size of a standard USB flash drive that will plug into a TV to instantly transform it into a Smart TV. The Roku Streaming Stick will feature built-in WiFi, processor, memory and software to deliver Roku's growing collection of streaming entertainment. With these new Smart TVs, consumers will enjoy a fully integrated high-definition streaming experience.

"Insignia is proud to be among the first manufacturers to pair the Roku Streaming Stick with a TV," said Scott Jacobi, director of Exclusive Brands at Best Buy. "The Roku Streaming Stick provides an elegant and easy over-the-top streaming solution for customers who want the full experience of a Smart TV without adding an external set box, HDMI cable and power adapter to their TV. Insignia looks forward to rolling out our first MHL-enabled TVs compatible with the Roku Streaming Stick in 2012 at Best Buy."

"Roku was the first to stream Netflix to the TV and since then has been applauded for delivering a first rate Netflix experience," said Greg Peters, vice president at Netflix. "Now Roku is taking streaming innovation to the next level and giving consumers a seamless Smart TV experience. The Roku Streaming Stick is a great solution for Netflix because it allows us to deliver the Netflix experience found on the Roku platform to potentially any TV."

Today's Smart TVs become outdated in just a couple of years because as software evolves the hardware needs to be upgraded to keep pace. While short hardware product cycles are expected with mobile devices such as smart phones, consumers generally keep their TVs for six to eight years. By moving the streaming platform to a stick that's easily replaceable, consumers no longer have to worry about their large-screen Smart TV becoming obsolete before its time.

"The Roku platform has been extremely successful as a stand-alone streaming device," said Roku Founder and CEO Anthony Wood. "Extending the Roku streaming experience through the Roku Streaming Stick to Smart TVs is a natural next step for the market."

"Smart TV manufacturers have struggled to find an application platform that sticks with consumers especially since software is not their area of expertise," said Kurt Scherf, vice president and principal analyst at Parks Associates. "The Roku Streaming Stick is a game changer for the Smart TV market. It takes the leading streaming platform and integrates into the TV in a way that no one has been able to do before."

The Roku Streaming Stick will not require any cables or a separate power source, and can be controlled by the TV remote. Like Roku players, it will deliver the more than 400 channels found on the Roku platform today and will benefit from regular, free software updates and channel enhancements.

The Roku Streaming Stick will be available in the second half of 2012. It can be bundled with a TV in retail or sold separately for consumers to use with their own TVs.

The Roku Streaming Stick will plug into MHL-enabled HDMI ports on TVs. MHL is a new standard that uses the HDMI connector on TVs to deliver power and other critical elements for the streaming experience. MHL is currently adopted by nearly 100 hardware and manufacturing vendors including Nokia Corporation; Samsung Electronics Co., Ltd.; Silicon Image, Inc.; Sony Corporation; and Toshiba Corporation, who are the joint founders of the MHL Consortium.

About Roku Inc.

Roku is the leading streaming platform. Since launching the first Netflix streaming player in 2008, Roku has delivered entertainment to approximately 2.5 million streaming players in the U.S. Roku features more than 400 entertainment channels including Netflix, Amazon Instant Video, Hulu Plus, Pandora, Angry Birds, Crackle, NHL GameCenter LIVE™ and HBO GO™. Roku streaming players are renowned for their ease of use, value and selection of content and are sold through leading retailers. Roku is founded by Anthony Wood, inventor of the DVR. For more information about Roku, visit www.roku.com.

Roku and Roku Streaming Stick are trademarks or registered trademarks of Roku, Inc.

###