Dave Cutler, Lead Engineer for Windows NT, Working on Xbox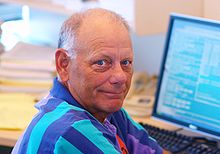 The launch of Windows 95 was a big deal for Microsoft. They licensed the Rolling Stone's "Start Me Up" for the commercials, had computer stores hosting midnight launches, and generally whipped up the kind of frenzy that only Call of Duty can muster in the software aisles these days. I, however, was dissatisfied. I wanted Windows NT. I wanted the stability, the NTFS file system, and the "true" 32-bit architectural underpinnings of Windows NT. I stuck with Windows 95 because Windows NT, by and large, was not suitable for gaming. Dave Cutler, the lead engineer during Windows NT's development and a major player in the development of Windows Azure has moved to Microsoft's Interactive Entertainment Business division to work on the Xbox. I don't imagine that Dave Cutler has suddenly become more interested in gaming than he was during the development of Windows NT or in media streaming which seems to be the real focus of Xbox development these days, so it begs the question, what is Dave Cutler doing working on the Xbox? I have a couple of theories that I have kicked around for a few years about how Microsoft might eventually turn the Xbox into a general computing platform, and an engineer like Dave Cutler would be just the person to lead such an effort. Anyone else have any thoughts on what Microsoft might be cooking up?
One of my contacts said to think about Cutler's new role as focusing on moving Xbox beyond a gaming platform. Does that simply mean he'll be helping Microsoft do what it's already on the path to do: To make Xbox more and more of a TV and/or settop-box replacement? Or is it something bigger, like helping Xbox also become a home videoconferencing/telepresence hub — or maybe even a whole home-automation system?