TuneIn Picks Up $20-30M in Second Round Funding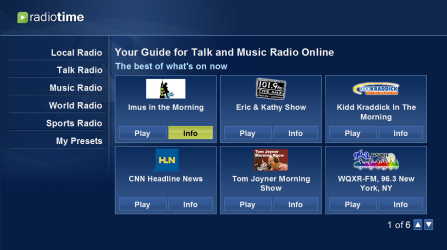 TuneIn has quietly turned itself into a powerhouse in the music streaming business. For those not familiar with TuneIn, it is a service and app that streams terrestrial radio stations from around the world over the Internet, similar to competitor iheartradio. In app form, the two services do diverge in their secondary offerings with iheartradio offering Pandora-like custom stations based on songs or artists and TuneIn allowing users to create custom stations by inputting a streaming URL or adding podcasts as stations. Venture capital funding is not usually a big topic here at Missing Remote, but in this case it is good to see TuneIn securing its future as they have done right by HTPC fans looking to add terrestrial radio content to their systems in the past. TuneIn, formerly known as RadioTime, continues to offer their plug-ins for a variety of front-ends including Windows Media Center, Media Portal, and Kylo. Admittedly, they have not continued to develop these plug-ins, but whenever I build a new WMC system, the RadioTime plug-in, aged though it may be, is one of the first that I add if only for the talk radio stations. Having secured funding to grow its business and a solid relationship with traditional broadcasters, TuneIn could be well-positioned to diversify its service offerings and compete more directly with a variety of big name streaming music service simultaneously.
With a reported 30 million monthly unique users, the bragging rights of being the top iOS music app last October and a slew of newly releasedauto integrations at CES, the under-the-radar TuneIn is sitting pretty. The service, which like iheartradio takes terrestrial radio stations and streams them online, differentiates itself from other contenders in the music space like Pandora and Spotify by offering up traditional radio mainstays like DJs and contests, etc.