Microsoft Launches Xbox Music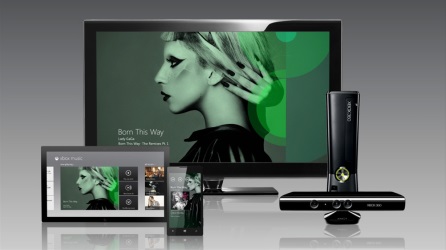 The last we had heard about Microsoft's Xbox Music service, rumors were circulating that it would launch on October 26 along with free ad-supported streaming. Turns out, those rumors were sort of right. Xbox Music launches today on the Xbox 360 alongside a dashboard update. The dashboard update will also bring the Xbox UI more in line with the Windows 8 UI and bring Internet Explorer to the console. As for that October 26 date, that is when Xbox Music will launch for Windows 8. Microsoft had already announced that Xbox Music was in the works but in yesterday's announcement, Microsoft was not only officially announcing the launch dates of the service, but also revealing the full details of what the service brings to the table and making clear that Microsoft is not planning on competing with just iTunes or just Pandora. Xbox Music is taking on all comers.
Microsoft is boasting that Xbox Music's catalog is 30 million tracks strong, and available for individual purchase and for streaming. The free unlimited streaming service will be ad-supported and will be available on Windows PCs and tablets. Users will be able to create playlists, custom stations, and identify favorite artists. The Xbox Music Pass will cost $9.99 a month and will kill the ads and make those playlists and streaming selections available on the Xbox 360 and mobile devices. Initially, mobile devices means Windows Phone 8, but the company also plans to support iOS and Android in the near future. The oft-rumored digital music locker is also coming down the road in the next year. On the legacy front, Zune Pass subscribers are being automatically converted over to Xbox Music Pass, along with 1000 MS points as a "thank you" for continuing with the service, and reportedly the Zune software will also work with Xbox Music allowing for music from the serivce to be synced to Windows Phone 7 devices.
"There are a lot of individual services that do a good job, but today there isn't a service which can pull together the benefits of download-to-own, music subscription, or free streaming services," Mehdi says. "With Xbox Music, what we wanted to do is bring all of that value in one simple, easy-to-use service, then build some additional value on top — make it really beautiful, and have it work across all of your devices. We've been able to simplify the music experience in a really powerful way."