Rhapsody Aims for Smart TVs with Panasonic, LG, and Samsung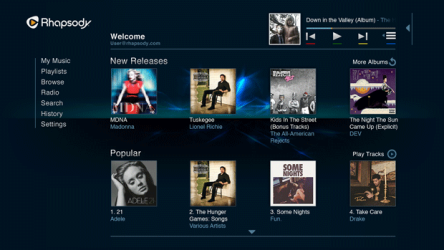 Microsoft isn't the only company looking to conquer the living room with a streaming music service this month. Rhapsody has been quite prolific, developing apps for just about every mobile device ecosystem one can think of, but now the company is looking to engage consumers in their living rooms. Rhapsody has announced that their music app is now available for Smart TVs from Panasonic, LG, and Samsung, with Sharp and the Xbox 360 to come later. This is an unusually diverse mix of Smart TV platforms to launch on simultaneously, so one would assume that the app is pretty similar across the board, but it probably won't mirror the online and mobile device experiences, but will instead serve to complement those experiences. It sounds like the Smart TV version of Rhapsody will be focused more on the company's streaming and subscription service rather than on purchasing individual tracks in the music store. This includes highlighting a radio version of the Rhapsody service that selects songs and editor-curated playlists based on music preferences, a move that suggests that Rhapsody isn't content competing with Spotify and wants to take on Pandora on its turf as well.
Rhapsody's music service is turning your living room into a jukebox, announcing today that its music app is now available on LG, Panasonic, and Samsung Smart TVs.

Though the company provided few details about what the Rhapsody TV app will entail, it said that the technology has been optimized for convenience, fast playback, and a rich visual interface maximized by high-definition displays.
–Press Release After the Break–
SEATTLE—October 3, 2012—Rhapsody today announced that it is now available on LG, Panasonic and Samsung Smart TVs as the company executes on its strategy to be everywhere its members are listening to music.
"Our goal is to be within arm's reach for our customers so they can enjoy anytime, anywhere access to the music that matters most to them. For many of our customers, the living room and the TV are the focal point for digital media consumption," said Paul Springer, SVP product and design, Rhapsody. "With these launches, Rhapsody expands its reach on the most popular Smart TV platforms, with more coming."
According to NPD's Smart TV Shipment and Forecast Report, 20 percent of televisions shipped this year will be smart TVs. Topology Research reports that's 53 million units, approximately 75 percent more than the number of smart TVs shipped in 2010.
The Rhapsody TV apps are optimized to facilitate convenient, fast playback with a visually rich interface that maximizes high-definition displays.
Rhapsody's Playlist screen on Panasonic Smart TV
"Our customers tell us they use Rhapsody differently on their television than they do on their PC, smartphone or tablets," said Springer. "So, we prioritized features such as radio stations, favorite tracks, editorial and customer-curated playlists as well as new releases and recommendations. With Rhapsody for your Smart TV, you get the right music, right now, right in your living room."
Rhapsody will also be available on Sharp Smart TVs within the coming months, and Microsoft recently announced that the Rhapsody music service will be part of Xbox Live, launching later this year.
About Rhapsody
The Rhapsody® digital music service (www.rhapsody.com) gives subscribers unlimited on-demand access to more than 16 million songs, whether they're listening on a PC, laptop, Internet connected home stereo or TV, MP3 player or mobile phone. Rhapsody allows subscribers to access their music through more touch-points than any other digital music service, including mobile phones from Verizon Wireless and MetroPCS, through Rhapsody applications on the Apple iPhone, iPod Touch and iPad, RIM BlackBerry, Windows Phone 7 and Android mobile platforms as well as through devices from Vizio, SanDisk, HP, Sonos and Philips. Rhapsody is headquartered in Seattle, with offices in Frankfurt, London, Luxembourg, New York and San Francisco. Rhapsody, and the Rhapsody logo are trademarks or registered trademarks of Rhapsody International Inc. Follow @Rhapsody on Twitter and keep up with the latest on the Rhapsody Facebook page.