Comcast Xfinity TV coming to Xbox 360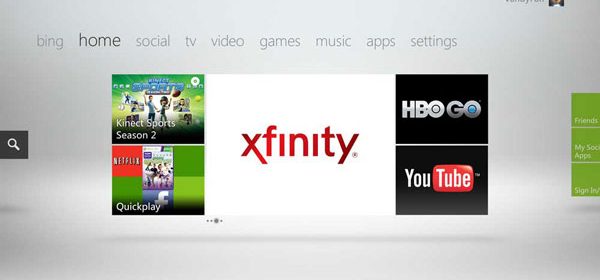 At the Microsoft CES 2012 keynote, Microsoft has announced a content partnership with Comcast which will bring the Xfinity TV services to the Xbox 360 dashboard. Additional partnerships include Newscorp partnership which will bring Fox News, Wall street Journal, Fox and IGN content as well. Not word on the exact time frame just yet but we're sure it is only a matter of time when it goes live.
Microsoft told us not to expect a heck of a lot of news from its 2012 CES keynote, but it just took the wraps off of a couple of content partnerships. For one, we're told that Comcast's Xfinity TV will soon be coming to Xbox 360 (FiOS users are finally getting a little company, as it were), and moreover, there's a new News Corporation partnership that'll bring Fox News, Wall Street Journal, Fox and IGN to the aforesaid console. Craig Davidson, Director of Xbox, also threw a verbal high-five to U-Verse, Telus and Telefonica. No word on launch dates, unfortunately, but we're guessing the parties involved will be making their own announcements on that.