Western Digital Scorpio Black 750GB and Scorpio Blue 1TB Reviewed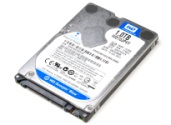 Over the last couple of years, as I have striven to build smaller and quieter HTPCs, I have come to appreciate the size and acoustic advantages of 2.5″ laptop hard drives. The smaller drive platters result in better performance at lower spindle speeds. The only thing you give up to a desktop drive is storage capacity, and even that advantage is diminishing over time. The guys at Silent PC Review don't usually approach their reviews with HTPCs specifically in mind, but what HTPC enthusiast does not appreciate a quieter computer. Too bad hard drive prices are going to be taking such a beating over the next few months.
The Scorpio Black 750GB and Scorpio Blue 1TB are the current flagship models of Western Digital's consumer 2.5″notebook hard drives. Like the desktop Caviar series, the Scorpios are differentiated by a color code, "Black" for high performance and "Blue" for mainstream; The electrically frugal "Green line" is absent however as low power consumption is always a consideration in notebook hard drive design to extend battery life.