SMK-Link Releases Wireless Ultra-Mini Touchpad Keyboard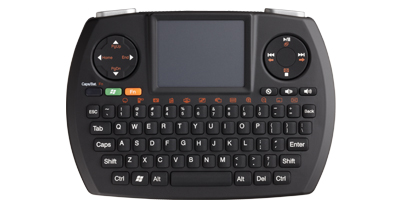 Although I try to set up our HTPCs to operate with just a remote control, there are times when it comes in handy to have a keyboard at hand. There are a number of companies making mini wireless keyboards that work perfectly in the living room. However, in most cases such keyboards are actually geared toward presentation systems rather than HTPCs; tapping into the HTPC market is just a nice bonus. The folks at SMK-Link have focused on presentation system accessories for several years, but they have obviously found the HTPC market to be more than just a nice bonus because their mini keyboards come with a dedicated Windows Media Center button. Their newest mini keyboard keeps the game controller size and feel, but trades in the thumbstick mouse control for a touchpad.
Featuring both a raised QWERTY keyboard and capacitive touchpad, SMK-Link's latest battery-powered creation boasts 20 function keys, seven hot keys and a dedicated Windows Media Center Start button (on the PC version, naturally).