Silverstone Sugo SG06 Reviewed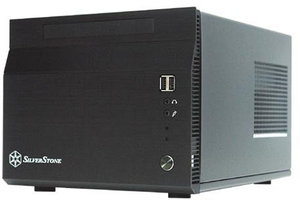 I've been a fan of the cube or shoebox cases since Shuttle Computers was big on the small form factor scene. Most case manufacturers have at least one cube in their lineup, usually geared toward mini-ITX systems, however few manufacturers devote as many resources to reiterating those cube designs as Silverstone. The Silverstone Sugo lineup of mini-ITX cube cases are a perennial favorite in HTPC and small form factor build guides. There seems to be a lot to like about the Sugo SG06, though that half-height ODD bay is going severely limit one's choices, especially for Blu-Ray.
One of their latest is the Sugo SG06, a mini ITX enclosure that sports enough space for many mid range graphics cards but maintains an emphasis upon small, compact performance. Naturally, some sacrifices had to be made but upon first glance it looks like Silverstone has introduced the perfect small form factor enclosure which comes with a 450W power supply installed.