Fracal Designs Launches Node 804 Chassis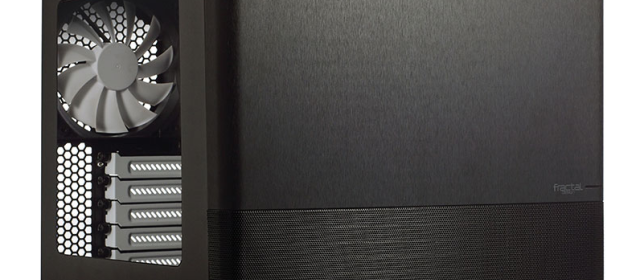 It's no secret that we like Fractal Design's cases. Everytime we test one it is always a positive experience. What's not to like about a solid, well made chassis that looks great and won't break the bank? From the look of it, the new Node 804 will continue that trend. It does seem to be geared heavily towards water cooling, but there is also plenty of space for hard drives so if your looking for a micro ATX case for your next server build this might be the one – if you can wait until May that is.
Anyone else think it looks like a sub woofer? Full PR, and a couple more images, after the click.
Launching the Node 804

---

The Node 804 is a Micro ATX chassis which focuses on cooling performance and maximum configurability, all packed in an interesting new form factor with an elegant design. The dual chamber layout separates hot running components from the cooler ones and allows unrestricted airflow over the motherboard, processor and graphic cards.

The case comes with three Silent Series R2 120mm fans but can be upgraded with an additional 7 fans if desired. There are also plenty of options for placing water cooling components, tall heat sinks and hard drives. The flexibility of this case really gives the user the possibility to create their optimal system build.

---

Key features

Highly effective dual chamber case layout for best possible cooling.
Minimalistic design with an elegant brushed aluminum front panel
Unique hard drive mounting system, fitting up to 8 x 3.5″, 4 x 2.5" or up to 10 x 3.5", 2 x 2.5″ drives HDD/SSD.
Three Fractal Design Silent Series R2 120mm fans included with the case and space for an additional 7 fans.
Excellent water cooling support with space for up to 4 radiators simultaneously.
Maximum radiator configuration: 1x240mm,1x280mm and 2x120mm radiators.
All intakes feature removable dust filters providing a dust-free interior.
Featuring a window side panel to show off your set up in style.
Additional space in the front to mount a slim optical bay drive and 2×2.5″ drives.
Fan controller included
Five expansion slots that allow for multiple GPU setups.

---

MSRP:

USD: $ 109.99

EURO: € 99.99

GBP: £ 79.99

SEK: 899

Model

Node 804 black

Article Number

FD-CA-NODE-804-BL-W

EAN / UPC

73500410802019 /817301012010

*Available in May