CyberLink Clouds Director Suite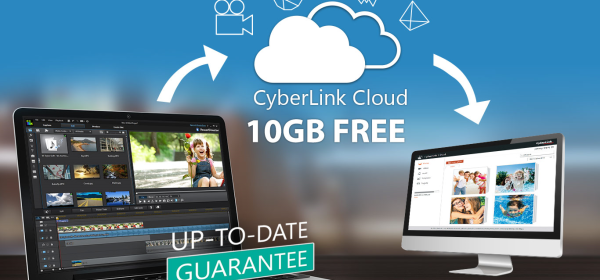 I'm not completely sold on subscription consumer-targeted software, but in enterprise it makes a lot more sense especially as the up-front cost of the applications rise. CyberLink has added their suite of content editing and creation to their cloud + yearly subscription model introduced with last year's rev of PowerDVD. I had a chance to play with the PowerDirector the other day, and was quite impressed with the ease of which I was able to accomplish an otherwise complex task with the software suite I was using, and best of all it supports Intel Quick Sync. So when I made a mistake the first time I generated the output, I only had to wait a few seconds 1) to discover it and 2) to create a new file after fixing it.
With features that facilitate working in a geographically diverse setting, I can see where the $99/yr adds value, do you think that and the value of always having the latest features also make sense for prosumers or is it really only for business?
Full PR after the click.
CyberLink Introduces CyberLink Cloud Service and Director Suite Live

First Complete Multimedia Cloud Solution for Creativity & Playback

Subscription-based Consumer Media Creative Suite with Cloud Connected Tools

Taipei, Taiwan—March 13, 2014— CyberLink Corp. (5203.TW), the world's leading consumer multimedia software company, today introduced the new CyberLink Cloud service – an innovative set of cloud-based consumer creative tools designed to enrich the multimedia experience for media creation and playback. Among the new solutions is Director Suite Live, the market's most complete consumer video and photo editing suite for creative consumers and experts. Director Suite Live is CyberLink's first subscription-based creative suite. Throughout the subscription period, users are guaranteed to always get the most up-to-date Director Suite releases. Director Suite Live is also integrated with CyberLink Cloud service for backing up and easily sharing your creative projects, templates and work environment.

"We are witnessing a complete transformation in digital media creation. Today, consumers generate a tremendous amount of media content, whether for personal use or to kickstart a professional career. As a result, media creators require a flexible way to access, manage and share their digital media – we've provided them with an easy-to-use and cost effective way to do so with CyberLink Cloud and Director Suite Live." said Alice H. Chang, CEO of CyberLink. "This new solution combines our most complete suite of video and photo editing applications, to which we added the flexibility of subscription and convenience of cloud technology, for easy backup, access and sharing – all offered at a consumer-friendly price point."

CyberLink Cloud service is fully integrated with Director Suite Live and PowerDVD Live, allowing users to backup creative content, and sync media between PC and mobile devices. Users can also browse, download and share their uploaded content from any device via CyberLink Cloud web interface.

The subscription-based Director Suite Live includes four award-winning CyberLink video and photo editing products – PowerDirector, PhotoDirector, AudioDirector and ColorDirector. Subscribers can choose from annual or quarterly plan, with an average monthly cost from $8.50 USD. All four applications integrate with the CyberLink Cloud service, and users can easily upload and download their projects, templates and system settings from cloud. Each Director Suite Live subscriber will receive 10GB of storage with their subscription.

With the integration of the CyberLink Cloud service, Director Suite Live subscribers can backup entire creative projects, and templates such as titles, DVD menus, PiP objects and sound clips directly from Director Suite Live applications, and access these templates and objects from multiple PCs. CyberLink Cloud provides an easy-to-use web interface, allowing users to download and share their creations and multimedia library with others, from any device with a web browser.

Key Features of Director Suite Live include:

Flexible annual and quarterly subscription plans, with free automatic upgrade to the latest new version throughout the subscription period;
The ability to backup and download creative projects and templates with Cloud connected tools in all Director Suite Live applications;
10GB free CyberLink Cloud storage to store creative projects and templates;
Save and restore Director Suite Live application settings through CyberLink Cloud;
Access, download and share creative projects and templates anytime, anywhere with only a web browser;
Complete video and photo editing tools including PowerDirector, PhotoDirector, AudioDirector and ColorDirector.

Product Availability

Director Suite Live, with CyberLink Cloud service, is available through the CyberLink online store in the US, Canada and UK, as quarterly and annual subscription plans.

CyberLink Director Suite Live and CyberLink Cloud Plans

Director Suite Live (incl. 10GB of Free CyberLink Cloud storage)

Quarterly Plan (3 mo.) US$49.99
Annual Plan (12 mo.) US$99.99

Additional CyberLink Cloud Storage Service

20GB (12 mo.) US$19.99
50GB (12 mo.) US$49.99
100GB (12 mo.) US$99.99

About CyberLink

Founded in 1996, CyberLink Corp. is the world's leading consumer multimedia software company. With over 100 patented technologies that provide a solid foundation on which to continuously revolutionize the way multimedia is experienced, CyberLink's visionary outlook has allowed the company to grow rapidly. This ultimately led to a record-breaking IPO on the Taiwan Over-the-Counter Exchange (OTC: 5203) in 2000. CyberLink is currently listed on the Taiwan Stock Exchange (ticker symbol: 5203.TW).

CyberLink's broad portfolio of multimedia applications can be categorized into two main areas: Media Entertainment – PowerDVD being the flagship product in this category, provides the latest in media playback on PCs, across devices in the home network, and on-the-go with portable smart devices; and Media Creation – offers a series of software to create enticing videos & photos, author Blu-ray & DVD discs and more. CyberLink has built strategic partnerships with leading CPU and GPU providers and a solid reputation for delivering high-quality, interoperable, and fast time-to-market solutions that keep our OEM partners from top PC brands on the leading edge. CyberLink's worldwide headquarters are located in Taipei, Taiwan, with regional operations offices in North America, Japan, Europe and Asia-Pacific. The company has 700 employees worldwide, with more than 500 engineers in product design and development.

#####