CyberLink launches PowerDVD 17 with VR, HDR and Ultra HD Blu-ray support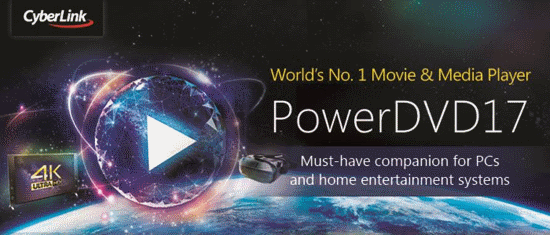 There's no stopping CyberLink in their quest to keep PowerDVD at the forefront of PC content playback. It wasn't that long ago that they added support for Ultra HD Blu-ray, and now there's another update with adds support for VR. It's great to see them continuing to help make the HTPC the best solution for home media consumption.
CyberLink Unveils the World's Most Advanced Media Player: PowerDVD 17

3D-360 video functionality with VR headsets, Ultra HD Blu-ray and HDR10 support unite in must-have media companion for latest PCs and TVs

Taipei, Taiwan—April 11, 2017—CyberLink Corp. (5203.TW), today released PowerDVD 17, the latest version of its flagship movie and media player that has sold more than 300 million copies worldwide. PowerDVD is an award-winning program for Microsoft® Windows® PCs, designed to provide playback for all types of digital media, from physical movie discs and video files to photos and music.

PowerDVD 17 adds support for Oculus Rift and HTC Vive VR headsets to bring virtual reality content front and center for users, along with groundbreaking innovations in 360 video playback. The added features offer a state-of-the-art portal to virtual worlds, enabling more ways to access the next emerging entertainment format that is virtual reality.

PowerDVD 17 is also the world's first software player to be certified by the Blu-ray Disc Association (BDA) for the playback of new Ultra HD Blu-ray Discs. The Ultra HD Blu-ray format delivers unmatched 4K content, offering significantly better resolution, a greatly expanded color range, high dynamic range (HDR) content, and support for the latest immersive sound formats, all of which has triggered a resurgence in global Blu-ray sales.

As worldwide shipment of HDR-capable TVs continues to expand, PowerDVD 17 not only introduces HDR10 support, but also new TrueTheater® HDR technology that emulates HDR video using standard footage, enabling consumers to experience the full potential of their HDR TVs across their entire video library.

"Since day one, PowerDVD has been about bringing people a premium media experience built on technological advancements and innovations they won't find anywhere else," said Dr. Jau Huang, Chairman and CEO of CyberLink. "With PowerDVD 17 people can expect to enjoy leaps in quality—along with entirely new viewing adventures—that they've never seen before, making it a must-have addition for everyone looking to maximize the potential of their new PCs and TVs."

Key Features

VR Mode—explore new worlds in 360° video and photos in a virtual environment that supports Oculus Rift & HTC Vive VR headsets, along with new 3D-360 videos.
Ultra HD Blu-ray—better resolution, higher frame rates, and high dynamic range (HDR) support deliver the most realistic viewing experience available.
Cinematic Movies—watch it all in the very best quality. From Blu-ray and DVD discs to 4K, HD video files and ISO images, as well as downloaded and quality-enhanced YouTube videos.
TrueTheater® HDR—creates HDR video from standard dynamic range content for better viewing on HDR displays. Combine with a host of other TrueTheater technologies for the ultimate in visual and audio quality.
Music Master—the industry's broadest support for lossless formats delivers music the way it was meant to be heard. Rip CDs to a vast range of formats, and extract audio tracks from video.
Perfect Photos—enjoy photo collections in high-resolution on PCs or TVs with one-click slideshows. Includes support for Camera Raw files.
TV Mode—a streamlined design provides effortless TV access to all videos, photos and music in the media library, delivering powerful media center functionality to consumers looking for a premium experience on their TV.
Media Streaming—support for Roku, Apple TV and Chromecast enables users to cast video, photo or music files not supported by the TV-connected devices themselves, and in improved quality via PowerDVD's TrueTheater technology.

PowerDVD Availability

PowerDVD 17 is available today from the CyberLink online store in English, French, German, Italian, Spanish, Chinese (Simplified and Traditional), Japanese, Korean, Russian and Portuguese.

PowerDVD Pricing

PowerDVD offers both subscription and perpetual licenses so users can choose a purchase option that best suits their requirements. PowerDVD Live is available in annual and quarterly subscription options. Lifetime licenses are available for three versions of PowerDVD 17.

PowerDVD Live: US$44.99/12 month or US $14.99/3 month subscription
PowerDVD 17 Ultra: US$99.95
PowerDVD 17 Pro: US$79.95
PowerDVD 17 Standard: US$59.95

To see the differences between each version visit the PowerDVD product page. Upgrades from previous PowerDVD versions are available starting at $49.95

About CyberLink
CyberLink (5203.TW) is a world leader in multimedia software design. Since 1996, CyberLink has transformed how people enjoy and create media on PCs, mobile devices and in the Cloud. The company's award-winning products are sold to all major PC manufacturers as well as millions of customers worldwide. Headquartered in Taipei, Taiwan, CyberLink also runs regional operations through offices in the US, Japan, Europe and Asia-Pacific territories. Further information about CyberLink can be found at cyberlink.com.