Gigabyte Brix Pro GB-BXi7-4770R Mini-PC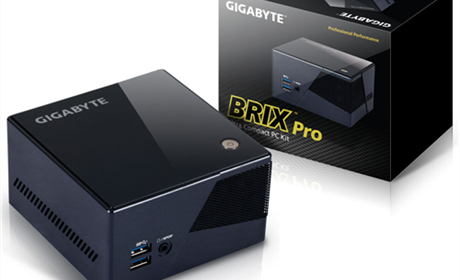 For home theater PC (HTPC) "small" is another word for "compromise". Thankfully, the amount required by our miniscule content consumption devices has decreased exponentially over the last few years. There is still a price demanded however, tiny systems require slower mobile integrated processor graphics (IPG) to drive them. We have to choose between size and performance; it is simply not possible to fit desktop capability in a five inch PC. But what if it were not? What if you could slip a 65W desktop chip inside a 2.4" x 4.3" x 4.5" chassis? Is it possible to cool it and extract desktop level performance from a physically diminutive system? Gigabyte asked exactly that, but was not content to use just any desktop CPU, instead opting for the 3.9 GHz (turbo) Intel Core i7-4770R with Iris Pro 5200 graphics – creating the $650 Brix Pro GB-BXi7-4770R. Putting so much CPU in a little box is sure to have its own set of trade-offs however, let's find out what they are.
Device
The Gigabyte Brix Pro GB-BXi7-4770R arrived ready for retail. The packaging provides a nice unboxing experience as well as doing an excellent job of protecting the mini PC from any delivery-man-induced harm. Gigabyte includes everything required to get started with the barebones system, including 135W power supply and VESA mount, except memory and storage. Make sure you do not misplace the small rubber seal intended for stopping up the mini-S/PDIF which glows bright red when the system is on (see gallery below for an example). Sadly, no remedy is provided for the power LED which bleeds blue through the venting and blinks in standby. Gigabyte includes the drivers on CD, which for a machine without an optical drive and scant reason to purchase a USB model just for this, seems odd. There is a conundrum to be had here though if you are planning to use Wi-Fi, because Microsoft Windows 8.1 does not include support for the Realtek RTL8821AE based wireless card out of the box so plan accordingly. Given the $650 MSRP ($358 of which goes towards the i7-4770R) and the form factor, if going through the trouble of including drivers putting them on a USB stick would have been a smarter choice.
I would not call the Gigabyte Brix Pro GB-BXi7-4770R pretty, but it is functionally attractive. The chassis is solid and well put together but lacks the rigidity and polish of the current generation Intel NUC's all-aluminum chassis although to be fair, they do have dramatically different thermal constraints. Nitpicking aside, the system includes all of the necessary I/O for HTPC use including [full size] HDMI 1.4a, [mini] S/PDIF, Gigabit Ethernet, four USB 3.0, and space for a 2.5" hard disk drive. Integrated consumer infrared (CIR) and Custom Solutions Header (CHS), which provides access to HDMI CEC, are missing however, but that is not unusual; few systems have either. The 135W FSP135-RSEBN2 power supply is larger than most laptop bricks, but the size is warranted because of the systems power requirements. Unfortunately, it does chirp softly at times, but really only noticeably in a very quiet environment.
Opening up the Gigabyte Brix Pro GB-BXi7-4770R require removing the four screws located inside the feet on the bottom of the device. As a barebones system both RAM (1.35V SO-DIMM) and storage are BYO, so it is necessary to open the box. Both mSATA and SATA ports (up to 9.5mm 2.5") are provided, with the 6Gbps SATA coming from a space saving proprietary connector. Gigabyte also includes an 802.11AC wireless card with the system pre-connected to the internal antennas.
System
Specifications
System Dimensions:
62mm x 111.4mm x 114.4 mm ( 2.4" x 4.3" x 4.5")
Board Dimensions:
100 x 105 mm (3.9" x 4.1")
IPG:
Soldered-down Intel Core i7-4770R (Haswell) – 65W TDP
Supported Memory:
2x SO-DIMM DDR3L (DDR3 1.35V) 1333 / 1600 MHz 16GB Max.
Network:

Integrated Realtek RTL8111G Gigabyte Ethernet
Mini-PCIe AW-CB161H (Realtek RTL8821AE) 802.11AC Wireless + Bluetooth

Video:

1x HDMI 1.4a (4096×2304 @ 24 Hz Max)
1x Mini DisplayPort 1.2 (3840×2160 @ 60 Hz Max)

Audio:

Realtek ALC269 analog audio
Eight channel HDMI audio via HDMI/DisplayPort

Expansion:

1x mSATA
1x Half-size mini-PCIe
1x SATA (6Gbps)

I/O:
Front:

1x headphone with mini-S/PDIF
2x USB 3.0

Rear:

1x Mini Displayport
1x HDMI
2x USB 3.0
1x RJ45 (Gigabit Ethernet)
1x 19V DC Power
1x Kensington lock slot

Other:

7mm/9.5mm 2.5" HDD slot
VESA Mountable with included bracket
Configuration
CPU:
Intel Core i7-4770R 3.2-3.9 GHz
GPU:
Intel Iris Pro Graphics 5200 200-1300 MHz
HSF:
Included
RAM:

Kingston KVR16LS11/4 8GB (2x 4GB) DDR3 1600 1.35v (CAS11)
ADATA AXDS1600GC4G9-2 8GB (2x 4GB) DDR3 1600 1.35v (CAS9)

Storage:

Intel 530 240GB mSATA SSD
Crucial M500 120GB mSATA SSD
OCZ Vertex 2 90GB 2.5" SSD
Intel 530 240GB 2.5" SSD
Western Digital 1TB Red 2.5" HDD

PSU:
Included FSP135-RSEBN2 135W
OS:
Windows 8.1 64-bit
AVR:
Denon AVR-X2000
Display:
ASUS VE248Q / Samsung PS51F5500
Additional Components:

Intel Dual Band Wireless-AC 7260
Like the system itself, the Gigabyte Brix Pro GB-BXi7-4770R's BIOS is barebones. The user interface (UI) is sparse, and so are the knobs-and-dials. Don't even try to use the mouse, this BIOS is keyboard only. Besides enabling secure boot, there was not much to play with here – which was disappointing. In fact the only reason to make more than one trip in, is if you need to boot from an alternate source (i.e. USB drive) because that is controlled on the last screen.
Fan noise is the most critical issue with the Gigabyte Brix Pro GB-BXi7-4770R. It is loud, it is annoying, and it does not take much to get the fan going. Above is a short clip to demonstrate how quickly it gets loud, and the pitch of the blower.
Despite the noise, the heat sink and fan (HSF) is able to maintain a stable temperature of the case (measured using an infrared thermometer), and no stability issues were observed running Prime95 for long periods of time (two hours shown above).
The CPU quickly hits 100C under load (Prime95, eight threads), and the system requires aggressive throttling to manage TDP. In contrast, when running the same test on the similar Intel Core i7-4770K in an ATX desktop system it only reaches 84C and exhibits no signs of throttling.
We can examine the limits of the cooler by ramping down the number of threads in Prime95. Finding that only when we limit stress to one thread can the HSF deal fully with the thermal load of the Intel Core i7-4770R and eliminate all throttling.
After all of the testing conducted in this review the HSF was removed from the Gigabyte Brix Pro GB-BXi7-4770R to see if it was possible to make improvements in thermal throttling, temperature, and fan noise. I was hopeful because it is quite common to find inefficient amounts of thermal compound on an OEM system, but that clearly not the case here. Gigabyte did a good job with assembly, so unfortunately it was not possible to better performance in any of these areas by removing and reapplying the paste.
Like most of this new breed of mini-PC, the Gigabyte Brix Pro GB-BXi7-4770R is VESA mountable. If opting for use with a display that supports the standard, it is a great way to unclutter the desk or cabinet. Unfortunately, there does not appear to be a way to configure the BIOS to enable for powering up the system from a powered off state, or while it hibernates, via the keyboard or mouse so it's best to configure it to only allow standby to save yourself the trouble of groping around for the power switch.
The Gigabyte Brix Pro GB-BXi7-4770R supports several management features intended for businesses, including the ability to lock down USB ports and an anti-theft system location service (going away in 2015), but sadly does not include a trusted platform module (TPM) so Microsoft BitLocker Drive Encryption is not a viable option.
Use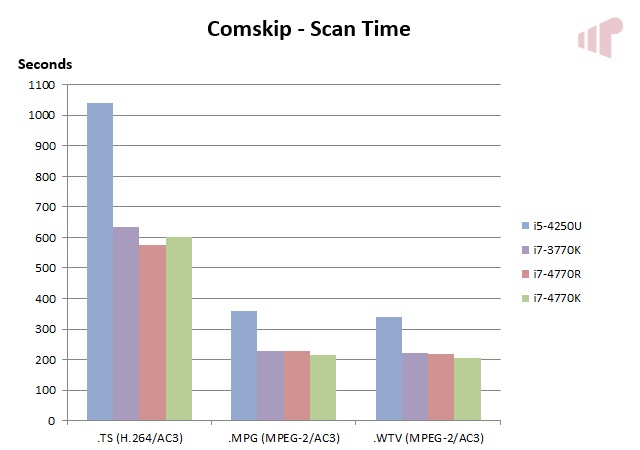 The commercial scanning utility Comskip is a good indicator of single threaded performance, so it was not surprising to see that the Gigabyte Brix Pro GB-BXi7-4770R is able provide roughly the same results as other desktop CPUs in its class. The i5-4250U found in the Intel NUC is included in this, and subsequent, graphs because it is the nearest competition in size, but clearly as a 15W mobile IPG is no match for any of the Intel Core i7 desktop chips.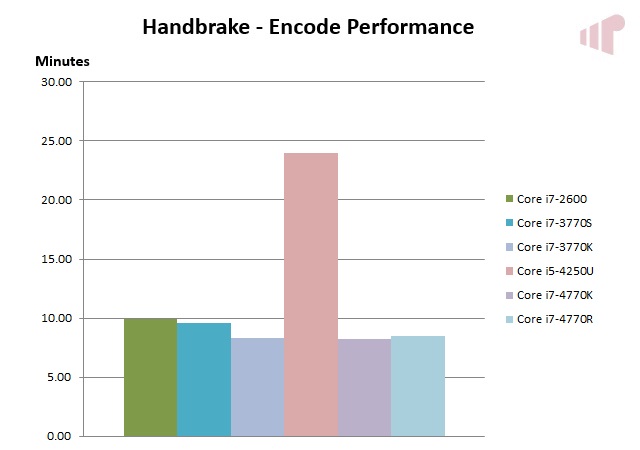 The popular transcoding application Handbrake is multi-threaded, so it was surprising to find that the CPU throttling observed earlier does not appear to hamper its performance significantly. In fact, only the higher TDP Intel Core i7-3770K and i7-4770K are faster and the slightly lower clocked 65W Intel Core i7-3770S took over one minute longer to complete the pass.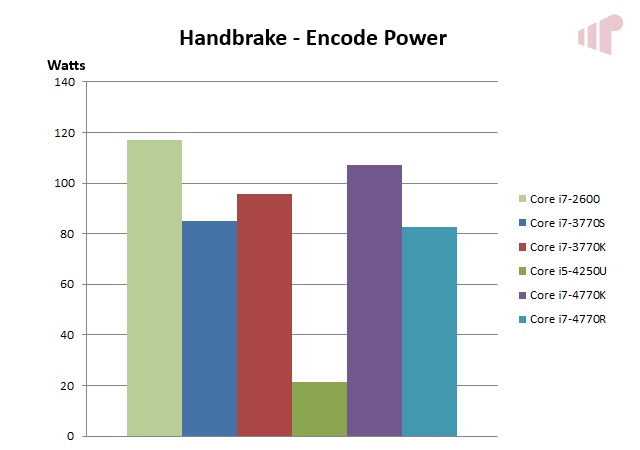 Power consumption while transcoding is also interesting because the Intel Core i7-4770R is the most efficient of all of the desktop class CPUs presented above, requiring 24.3W less than the Intel Core i7-4770K and 12.8W than the Intel Core i7-3770K which both completed the test roughly 15 seconds quicker.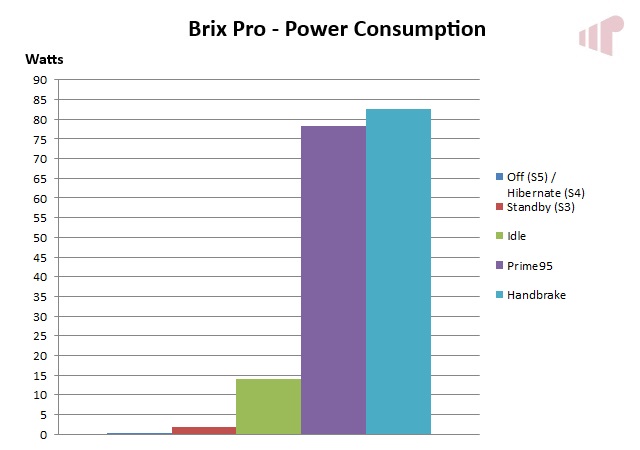 The progress Intel has made with Core processor power consumption is impressive; especially when they aren't under load. Two CPU generations ago, I was happy with the thirty watts idle required by a 65W Intel Core i5 system. Now, we have a 65W Intel Core i7 that pulls less than half that. Improvements in hibernate/off are just as laudable with the Gigabyte Brix Pro GB-BXi7-4770R pulling a miserly 0.2W in that state.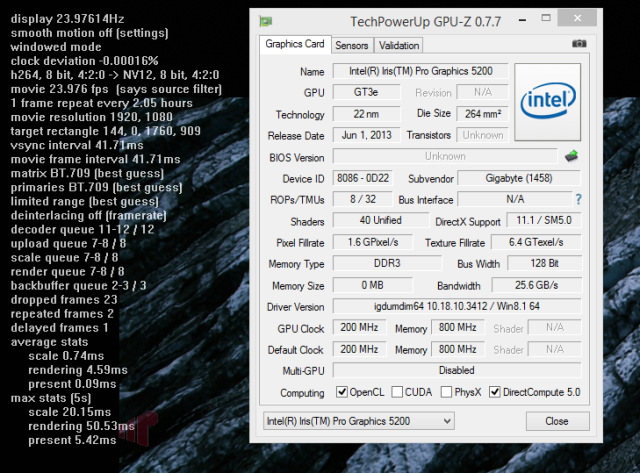 Intel fixed the refresh rate precision issues present in earlier platform with Haswell so, as expected, the Gigabyte Brix Pro GB-BXi7-4770R proves competent in this area. Combining this achievement with the much more timely additions of multi-channel PCM and high definition audio bit streaming, produce an excellent media experience with low power requirements. There is something new to examine with this system however – Intel Iris Pro.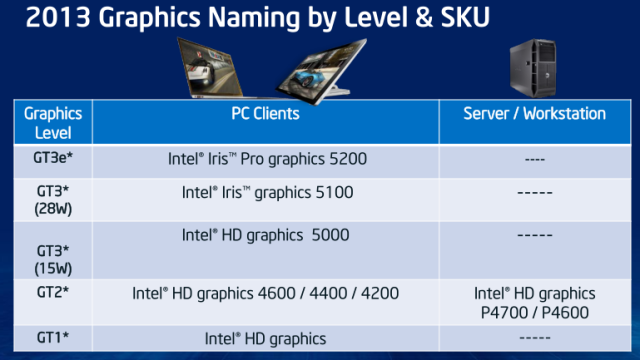 All consumer oriented fourth generation Intel Core processors ship with an integrated GPU, but just as there is variance in CPU capability Intel has seperated the available graphics performance into five segments with Iris Pro topping the list. All "GT3" models contain 40 EU (execution units), frequency is limited to 1.1 GHz on Intel HD 5000 and steps up to 1.3 GHz for Intel Iris 5100, but only Intel Iris Pro 5200 adds 128MB of eDRAM cache to the mix. Naturally the focus of a better GPU is targeted at gaming, but it also benefits the most demanding A/V enthusiasts – those who want to leverage the video renderer madVR.
With features like the judder eliminating "Smooth Motion" and a myriad of pixel processing algorithms madVR betters the video post processing previously only available on expensive, specialized, hardware devices to the HTPC. The best part is that it is currently free (as in beer), but you do need a powerful GPU to take advantage of all it has to offer. Both the Intel HD 4600 (GT2) and 5000 (GT3) have been tested, finding similar practical limits.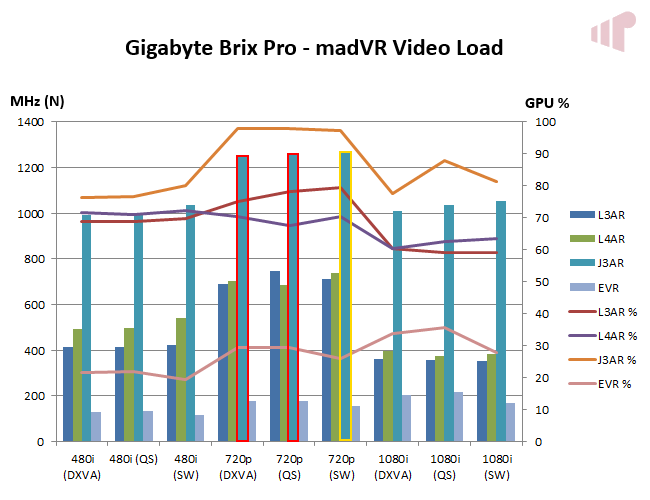 First off, the newest algorithm (NNEDI3) is off the table, but given its processing requirements that was a given before testing began so the focus was primarily on the realistic targets of Lanczos 4-tap with Anti-Ringing (AR) and Jinc 3-tap AR, both of which proved too much for lower end Intel GPUs. To access this, three files of common resolution (480i30 / 720p60 / 1080i30) where rendered using three different decoding techniques: two hardware accelerated (DXVA / Quick Sync), and one software to isolate the relative impact of each method. For completeness Lanczos 3-tap AR and the Enhanced Video Renderer (EVR) were also included.
In the chart above average normalized GPU frequency is shown on the left axis, and [un-normalized] average GPU utilization on the right. As complicated as this may make the data it is important to note both because, like all Intel HD Graphics products, Iris Pro throttles GPU frequency depending on workload and thermal considerations. The bar highlighted in yellow indicates unacceptable video performance (i.e. stuttering, dropped frames, rendering issues, etc.), and bars highlighted in red add to that incidences where evidence of throttling due to thermal limits (i.e. high load with lower frequency) were present; so where we did not see a marked decline in CPU capability due to throttling before, it is impossible to say what Iris Pro would be capable of if a better cooling solution were available here. That said, we do see some benefit compared to what was attainable with the other Haswell GPUs; Lanczos 4-tap AR is now possible for these types of content, and Jinc 3-tap AR as well for everything but 720p60 if you can deal with the fan noise which accompanies the selection of either processing mode.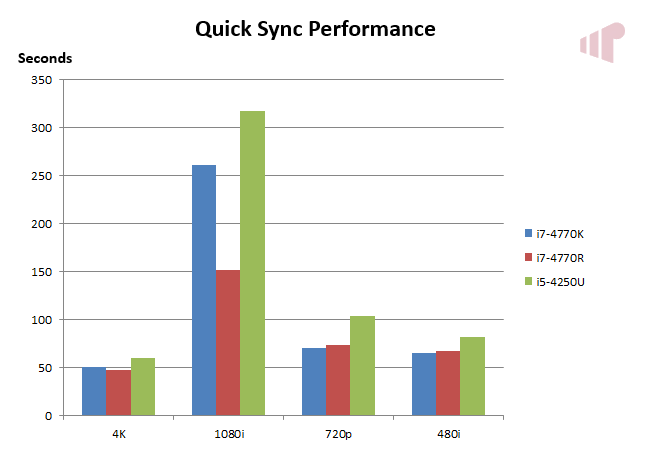 Most likely due to the 128MB of eDRAM cache that Iris Pro provides the Gigabyte Brix Pro GB-BXi7-4770R is blazing fast when it comes to transcoding 1920×1080 content using Intel Quick Sync; 72% faster than the Intel Core i7-4770K in fact. The huge advantage is highly targeted however, with only a slight advantage at 4K and none when transcoding 720p or 480i.
Conclusion
The $650 Gigabyte Brix Pro GB-BXi7-4770R is innovative, powerful, and well featured — but it is not cool. Despite the obvious engineering achievement displayed by this little HTPC, it is let down by the cooling solution. The HSF is clearly capable of keeping the system stable with aggressive throttling, even then the level of noise required to do so is unpalatable. While it can match, or exceed, a comparable Intel Core i7 desktop CPU's performance it is hard not to wonder how much better it would have been if Gigabyte had made it just a little bigger and allocated the additional girth to more heat sink and a less audacious fan. That said, the form factor is outstanding; so much system in a tiny box, small enough to go pretty much anywhere and capable of attaching to the back of a VESA monitor, fantastic. The Intel i7-4770R is very fast, Intel Iris Pro HD 5200 the most capable Intel GPU I've tested, and a transcoding powerhouse. Small PCs have always been about compromise. Usually it is paid in CPU and graphics performance, this time though your ears get left with the bill.
Pro:
Powerful CPU
Powerful integrated GPU
Form factor
Con:
Fan noise
Full potential let down by cooling solution
BIOS GUI
Thanks to Intel for providing the review sample.